Plastic waste is a global menace. But in a Lagos slum, it has become a resource which parents now depend on to provide education for their children. PAUL OMOROGBE tells the story.
Globally, plastic pollution is a problem. With more than eight million tonnes of plastic leaking into the ocean each year, United Nations Secretary General António Guterres, has said that "if present trends continue, by 2050, our oceans will have more plastic than fish." But in a Lagos slum called Ajegunle, plastic waste has become a resource for educating many young children.
Meet Rose Amuzie. She was born in Ajegunle, grew up in Ajegunle and still lives in Ajegunle today. Ajegunle is the most notorious slum in Lagos. Apart from the filth, poor living conditions and vices such as crime and substance abuse Ajegunle is known for, it is very rare for children brought up in this area to attain tertiary education.
Indeed, the norm is for Ajegunle girls to get pregnant as they finish secondary school, thus the beginning of parturition for them marks the end of education.
But for Rose, by what she calls divine favour, she was given a scholarship by an anonymous donor  to study at Covenant University, Ota, a top-ranked private university in the country, where she recently bagged her first degree in Sociology.
She returned to Ajegunle to help out in a school founded by her sister to give Ajegunle children a good education at the littlest cost. Not only that, Rose is actively participating in a scheme that beats plastic pollution, and at the same time provide education for children.
Plastic pollution as a fact is a global menace, and education on the other is considered an elixir to poverty.
The school, Isrina Schools, is located at Barrister Ahmed Musa Street, Mechanic Bus Stop, Ajegunle.
"My sister began the school as a nursery where parents could keep their children while they went to work to fend for them. It began to grow as the parents began to notice significant improvement in their children's abilities," Rose explained to Nigerian Tribune.
Today, the school, which has been registered, has classes from nursery to Basic Five. However, running a school no matter the altruistic reasons for doing so, comes at a cost. The school premises is rented. School furniture, teaching materials, and salaries for teachers are other expenses that must be paid for. Therefore, school fees must be paid to keep the school going.
But poverty Ajegunle makes the school fees of between N3000 to N5000 per term an uphill task for most parents.
Funding the education of these kids became less of a headache when a social media post brought the attention of an NGO called African Clean up Initiative (ACI) to the school.
ACI runs a recycling programme that enables parents to pay for their children's school fees. According to Alexander Akhigbe, founder of ACI, the 'Recylcespay educational programme' is an initiative that enables parents to pay for their children's school fees by gathering plastic bottles and 'pure water' sachets.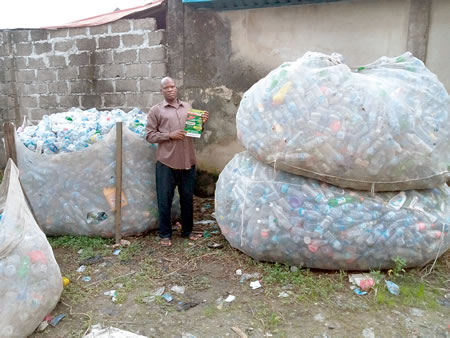 So, when ACI visited the school and spoke to the parents about the initiative, they immediately keyed into it massively.
"When we had our first pickup, it was massive. There were bottles everywhere. They were shocked that even though it was our first time, we could pick that much. So, they decided to place more interest in this school," said Rose.
She added that to boost the morale of the parents to pick bottles, her father, Mr Israel Amuzie, although he has no children in the school, had decided to participate as the pickup initiative commenced.
"He started picking 100kg to 200kg of plastic bottles. Then he went to 300kg to 500kg. He has picked up to 2,000kg of plastic bottles in the last three months. And most of it was for these children's school fees," she explained.
Rose said many of the parents in the school practically depend on picking plastic bottles as the sole means of catering for their children's education.
At regular intervals, recycling organisations have agreed to pick up the bottles gathered by the parents. And at the end of the term, the money is paid to the school, according to the volume of plastic bottles that has been gathered.
Parents have been so enthusiastic about the initiative that the volume of bottles they have picked has become a challenge due to storage space. "That is where there is a challenge – with the delay in picking up the bottles we have gathered," Rose stated.
According to her, some parents were beginning to have problems with their landlords because the bottles that had been gathered were not being evacuated at the agreed periods. Therefore, the parents were being seen as turning the compound into a junkyard. Hence, the affected parents were forced to reduce the rate at which they collect empty plastic bottles in order to avoid problems with their landlords.
"The parents were picking much, but the people that were coming to evacuate were taking time. They said they would be coming once in two weeks. It turned into once in a month, and then once in two months. So, the landlord tells the tenant, 'you told me once in two weeks these bottles would be cleared, so why are there so many bottles here?' So, such parents had to reduce the amount they pick because they don't want problems with the landlord," Rose said.
"Many parents are ready to pick bottles in exchange for their children's textbooks, uniforms and school fees. They are ready for it! But some have stopped picking because they don't know when the ones on ground will be evacuated.
"There was a time that they (the recycling organisations) were coming. So, we went out to pick bottles and all here was filled up. But because of the evacuation was prolonged, our neighbours nearly went to call the council because of us," Mr Amuzie said.
He added that "this is a sustainable activity. We are happy to associate ourselves with this initiative.  We can continue to collect the bottles. It helps us as a school, and it helps the parents and the children. But they are not coming to evacuate the bottles we pick consistently. If we pick, and they come to collect on time, then the persons who picked will endeavour to pick more."
Mr Munir Adams, project manager at ACI explained that ACI is a non-profit organisation partnering with recycling companies to evacuate the plastic bottles. He said the recycling companies are businesses that have costs to balance and logistic challenges that result in the delay in moving out the plastic waste gathered by the school and parents.
"Because we are not into full recycling in Nigeria, what those recycling companies do is grind the plastics into pellets and they export it.
He added that for the sake of the initiative, the recycling companies endeavour to pay a fixed amount per 200kg of recyclables collected despite the fact that the price the recycling companies sell rises and falls according market demand.
Regarding the delays, Munir explained that "we partner with recycling companies, so our strength is limited to recycling companies' strength. Sometimes the cost of logistics is more than what they are going there to carry. They are for profit as a business, we are not. So, for them not to run down there needs to be a balance."
He explained that despite the all the challenges, human, logistics, plus the 'Nigerian factor,'  ACI was working to provide a solution. "We recently got a driver and we got a vehicle, so most of these things [delays] will be sorted out."
According to a report, every year, Nigeria generates about 32 million tonnes of solid waste, said to be one of the highest amounts in Africa. Of that amount, plastic waste makes up 2.5 million tonnes.
---
---