Aisha Buhari tasks women on participation in active politics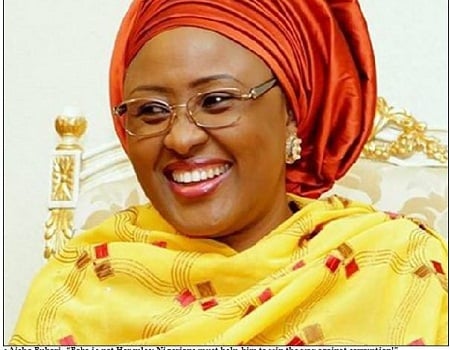 THE wife of the President, Mrs Aisha Buhari, on Tuesday, urged more women to show interest and participate in partisan politics.
She made the call while addressing newsmen ahead of the summit on female political aspirants scheduled for Thursday in Abuja.
Buhari who was represented by Hajiya Hajo Sani, Senior Special Assistant to the President on Administration, said the summit would create awareness on the need for an increase in the participation of women in active politics, to improve national development.
"There is need for us to set the agenda for women in politics now before we go into the series of electioneering process.
"That is why this summit will bring all stakeholders together to deliberate on the stake of women in the forthcoming elections.
ALSO READ: Omisore hailed in Iwo, says 'I'm not in PDP, it's dead in Osun'
"Issues of vote buying will be addressed, violence against women and children during elections will also be addressed", she said.
She, however, advised women to participate at all political positions in order to be at the helm of affairs in the country.
The President, National Council of Women Society (NCWS),    Mrs Laraba Shoda,   added that it was time for the country to respect the 35 per cent affirmative action accorded to female in politics in Nigeria.
"If an African country like Rwanda, accord 62 per cent of political positions to women, why can't Nigeria do the same", she said.
The  Director General, National Centre for Women Development (NCWD)  Mrs Ekpere-Eta said that women should come out and support their fellow women during the election and not remain at the background.
She added that irrespective of their political party, women should support any female political aspirant so that women will be adequately represented in governance.
The News Agency of Nigeria (NAN) reports that the summit will be held on August 30 and it would involve all political parties, women political aspirants, political stakeholders, various national and international organisations as well as INEC.
NAN reports that according to the organisers, the summit is a deliberate women agenda to ensure a greater representation and participation of women at all levels of governance.
"It is a collective action for women to work together to well up women for women votes irrespective of political affiliation, faith, tribe, status and post they are contesting for."
The summit is jointly organised by women radio; WFM 91.7, Nigerian women Trust Fund and WomenIn Politics Forum.