#AirtelChangeYourStory: Journalism Clinic, Airtel train journalists on multimedia, digital, data reporting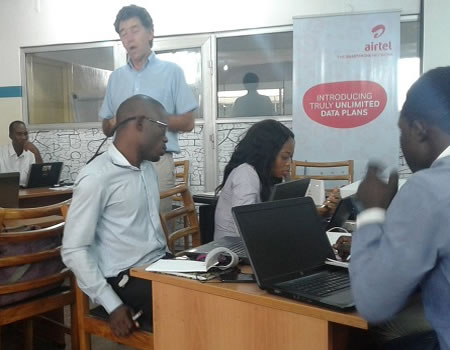 Journalists from all cardinals of the federation have commenced a weeklong training on multimedia and digital reporting organised by the Journalism Clinic in partnership with Airtel Nigeria in Lagos.
Representative of Airtel Nigeria, Mr Emeka Okpara, the training, which Airtel has consistently identified with over the years, has turned out to be a corporate social responsibility to journalists, which he described as perennial friends.
"We are consistently consistent in the way we do our things especially when we do good things. I must commend the organisers of this programme. What they are doing for journalism in Nigeria and indeed all around the world cannot be overemphasised. This is not a good time for journalism because of several attacks. There are so many fake news these days as Donald Trump would say…
"Times are changing, the era of billboards is phasing off. Everybody wants to stare at the phone. We're talking about content, smartphones, internet and everything around it. We just want to help journalists do their jobs better, develop unique contents and smartly so. Airtel is in this just to support the media that has been our perennial friends round the clock. This is like a CSR to empower journalists in making their job easier."
The organiser of the programme and CEO of the Journalism Clinic, Mr Taiwo Obey, charged journalists to make best use of the opportunity and redefine storytelling.
The first phase of the training, which is centred on Multimedia and Digital reporting, began Monday, August 21 while the second phase, which is focused on data reporting, is scheduled for Thursday, August 24.