Agriculture minister laments 35 years neglect of Ikere-Gorge dam in Oyo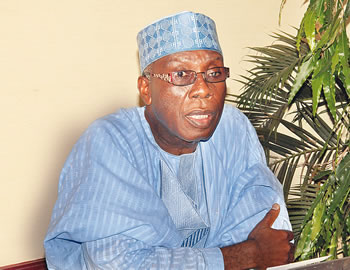 Chief Audu Ogbeh, the Minister of Agriculture and Rural Development, on Tuesday lamented the 35 years neglect of the multi-purpose Ikere-Gorge Dam in Iseyin, Oyo State.
The minister said at a  town hall meeting in Ibadan  that the dam has the potentials for irrigation farming, generation of electricity, water supply and tourism.
The town hall meeting was organised by the Federal Ministry of Agriculture and Rural Development and its Oyo State counterpart.
The News Agency of Nigeria (NAN) reports that Ogbeh was in the state on a two-day working visit.
Ogbeh, a Minister of Communications between 1982 and 1983, recalled he had visited the dam in 1982.
"I remember that we visited the dam in 1982 and brought the required turbines to complete the project.
"I almost wept yesterday (Monday) when I visited the dam in Iseyin and met the turbines lying fallow at the dam without being fixed.
"It is very sad to know the dam has been idle since 1982. This is how we have been wasting our various resources that landed us in the present economic woes,'' he said.
He said the dam could serve multi-purpose functions of fishery, irrigation, water supply and electricity generation, with a capacity for seven megawatts.
Ogbeh also commended Gov. Abiola Ajimobi for the sustained peace in the state in the last six years.
"A Fulani leader in Oke-Ogun on Monday during my visit to the area told me that they have found peace in Oyo State.
"The efforts of the state on security are highly commendable,'' he said.
In his remarks, Ajimobi called Nigerians to imbibe attitudinal change, urging them to shun attitudes inimical to the growth of agriculture in the country.
He said the state was ready to work with the Federal Ministry of Agriculture to ensure food security in the country.
Oyewole Oyewumi, the Commissioner for Agriculture, Natural Resources and Rural Development, said the administration was committed to the well-being of  the  citizenry.