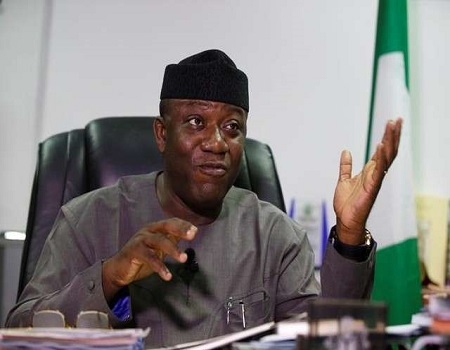 AGRA Innovate West Africa expo will host the agribusiness leaders and stakeholders from Nigeria and beyond at the Landmark Centre, Victoria Island in Lagos, from 27 to 28 November 2018. The event will be held under the theme: "Food Security: The role of finance in the creation of commercial opportunities for agricultural value chain stakeholder operations."
The 2018 expo, organised by Informa and Contact Consulting Nigeria, marks the fifth edition of the event, with growing emphasis on thematic conference and seminars on topical issues. This year's event serves as a high level platform for product exhibition, business-to-business linkage, deal making, networking, technology transfer, knowledge exchange, public-private collaboration and policy discourse among participants drawn from the agribusiness community, academia, advocacy groups, development practitioners, policy experts and high calibre government officials from within and outside Nigeria. Over 5,000 exhibition visitors have registered online and attendance is free for online registered delegates.
Governor John Kayode Fayemi, who has confirmed his attendance as the Special Guest of Honour, and is leading a high level delegation from Ekiti State, will lead the way for other states' chief executives on how to turn agricultural prospects into prosperity as he addresses agribusiness stakeholders on potentials for agribusiness partnerships. Governor Fayemi has indicated that his government will make agriculture a top priority in Ekiti State.
Confirmed speakers at the event are Mr. Michel Deelen, Deputy Head of Mission, Royal Netherlands Embassy, who will deliver an address the audience on emerging potential partnership opportunities between Nigeria and the Netherlands; Vanessa Adams, Vice President, Country Support and Delivery, AGRA (Kenya); Alex Elphistone, Programme Director, Adam Smith International; Fatima Ali Mohammed, CEO Brand Warrior; Ade Adefeko, VP OLAM (Nigeria); Nneka Eze, Country Director, Dalberg Global Advisors; and Dr. Olusegun Ojo, Director General, National Agricultural Seeds Council (Abuja). Mrs Sarah Alade, former Deputy Governor of Central Bank Nigeria, will deliver this year's keynote address.
At the last year's Agra Innovate expo, Chief Onikepo Akande, former Minister of Trade and Investment, who gave a keynote address, emphasised the need for Nigerian and West African farmers to use modern agricultural tools to boost food production. She expressed concerns over massive wastage of food after harvest, saying that although much food is being produced through the efforts of peasant farmers, so much goes into waste from the field to the table.
"After the success of last year's Agra Innovate in Nigeria, we are ensuring that the upcoming exhibition will again have the great ambience all attendees have previously experienced. The seminars have consistently been the best in terms of layout, facilities and hospitality. It will be the one place this year where the whole agriculture industry will come together to learn and do business." states Folusho Olaniyan OON, Programme Director, Agra Innovate West Africa.