Agony of S'African returnees: 'We went for greener pasture but came back with nothing'
Following the rise of xenophobic attacks in South Africa which led to reported deaths of Africans including Nigerians,
the first batch of returnees touched the ground at the Lagos airport on Wednesday night. In this report, the South African returnees relive their near-death experiences to SHOLA ADEKOLA.
"I am bleeding because I left my wife and baby behind. I had to come back because my mother was crying repeatedly
that I returned to Nigeria. If something had happened to me, she would have suffered; I left my business, I came back with nothing. South Africans believe all Nigerians are drug peddlers."
These were the pathetic words of Victor Uche Nwaocha, one of the first batch of 187 Nigerian returnees from Nigeria. They were flown back into Nigeria through the Murtala Muhammed International airport, Lagos Wednesday night courtesy of Air Peace airline.
Nwaocha, like many others who returned and are expected to return from South Africa, fled the country after news broke of xenophobic attacks across many parts of South Africa. The attacks have engendered global outrage and condemnation.
In an interview granted some journalists on arrival at the airport, Victor, a resident of Abarten, South Africa, narrated how his search for greener pastures took him to South Africa but in the wake of the attacks,  all his investments came crumbling.
According to Victor, "I went there for greener pasture. My mother cried; she told me to go farther abroad. I have seven siblings. I am a native of Abia State. I once lived in Lagos. l worked at Maroko before l left for South Africa. Many of them can attest to the fact that l was not involved in any form of criminal activities. I went there and made sure l was not involved in anything that was detrimental to the image of Nigeria. I had to live my wife and children behind. They are
in danger as we speak; I had to return because my mother kept crying. My business was burnt alongside the popular car mart that was destroyed there. I baked and supplied to top shops over there. My business was on the rise and booming before those devils struck.
Why National Assemby can't give Nigerians new constitution —Ayo Adebanjo
"How can l continue when every street that l supply to are victimising foreigners? If anything had happened to me, my mother would not have forgiven me. I don't want her to curse me and die; that was the last warning she gave me; so l had to find my way back home. I am grateful to Air Peace and the Nigerian Consular General. For a very long time, my passport expired and l couldn't renew it just to tell you how difficult it was for us in that country. Despite the lies they put up against us as Nigerians, we refused to give up. But the stories they are telling you that Nigerians are involved in
drug peddling are all lies, even the person they claimed killed the taxi driver is not a Nigerian but a Tanzanian. Even as we were boarding, they put hurdles on our way, what is their problem, are we supposed to victimise our fellow African brothers? Chinese are there, the whites are there intimidating them, but they can›t even do anything, they only have power and strength when it comes to attacking their fellow blacks."
"I was scared I would be killed" For Julian Anthony from Edo State who said he was into media production and had
spent seven years in South Africa, it was a similar tale of woes. "It was terrible; we barely escaped with our lives. We were all scared. They went from house to house looking for Nigerians. The apartheid in South Africa is still there," he said.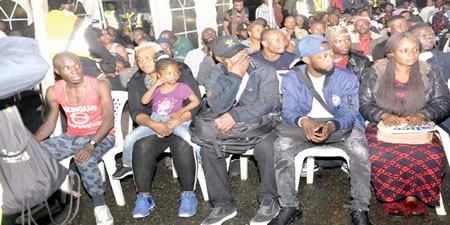 Another returnee, Onuoha Chizoba from Abia State who had spent seven years there for pastoral work, told Nigerian Tribune, that "in the area where we lived, we felt uncomfortable that the best thing we had to do was to return home.
Some Nigerians are still there for reasons best known to them. They are killing our people; on Tuesday, another
Nigerian died; they keep them in the mortuaries; some were killed in the bush. They locked up our shops; they burnt all the cars inside; it is wickedness. They came together; they started breaking shops, burning the shops, stealing things."
"I'm happy to be home" Aliu Saheed, from Osun State, returnee, told Nigerian Tribune of how his shop was
burgled, saying that "but I'm happy to be home; I'm not going back again."
Some stakeholders in the country including the aviation sector have appealed to the government to concentrate on using the resources at its disposal to better the lives of its citizens and create an enabling environment for local businesses to thrive.
Joining in making this appeal, Mr Olumide Ohunayo, a director at Zenith Travels, Lagos declared: "What we can do is that the actions of the South African government and the citizens have shown that we cannot continue to be big brother in all our dealings with our fellow African countries. For now, they have not touched the African aviation sector. If you remember the last time, sometime in 2012 when Nigerians flying on only Arik Air were deported by South Africa for yellow card violations and we almost retaliated, I think since then they have given some respect to the aviation sector.
We should just be on guard and watch. But cancelling or reviewing our air transport agreement with the South African government will be going too hard on the issue on ground. Let us leave it as it is. What we will not do is to grant any extra request which naturally would have been granted without any conditionalities."
The joint efforts so far put up by the Federal Government and the Air Peace management to evacuate willing Nigerians out of South Africa has however been commended by the Nigerians. The quick response of the government through its Foreign Affairs Ministry has been described as an indication that the government will not just facilitate the return
of the affected people but further assist in empowering them through the grant of soft loans to start again.
Confirming this on behalf of the government at the arrival of the first batch of the stranded Nigerians at the Lagos airport,
the Chairman of the Diaspora Commission, Honourable Abike Dabiri-Erewa gave an assurance that the government would support the returnees. To show the readiness of government to assist the returnees on arrival Wednesday,
each of them was given sim cards and airtime that would last them almost two months to help them stay in touch with
their families.
According to Dabiri-Erewa: "The Bank of Industry will also be here to offer some entrepreneurship programmes and some support to start small businesses and there would be some stipends for transportation to take them home; we will profile them and for those who want to get any training, they will decide what kind of training they want to do and the Bank of industry will be there to provide it."
Returnees express relief The mood on the faces of most of the returnees on arrival at the Lagos airport on
Wednesday night was that of relief coming after the agony and pain they had gone through while in South Africa. Therefore, as they disembarked the Air Peace Boeing 777200 aircraft which landed at exactly 9.35pm at the Hajj and Cargo section of the Lagos International Airport, the returnees were in high spirit, praising the airline, the Nigerian
Government and Nigerians.
For more than one week efforts had been ongoing by the Federal Government through the Ministry of Foreign Affairs, the Nigerian High Commission in South Africa to make emergency travel papers for the over 600 willing Nigerians caught up in the melee. The evacuation which was to originally have started on Monday was delayed till Wednesday to enable all the intending returnees get clean bill to return home.  After rigorous efforts and with all set for the evacuation to commence on Wednesday with the airline dispatching a Boeing 777-200 on a day earlier, there were reports of how South African officials suddenly came up with another hurdle meant to frustrate the evacuation plan as its immigration officials showed up as the first batch of the 317 already profiled returnees were about boarding the plane.
The officials began asking for another round of documentation after the one already done by the Nigerian
High Commission in conjunction with Nigeria's Controller of immigrations.  At this point only 182 were allowed to board while the remaining 135 were disallowed from boarding as the South African officials arrested them and demanded to know how they entered into their country without legal documentation. The disruption of the evacuation
led to several hours of delays with temper rising. But the eventual return of the first batch calmed frayed nerves.
With the return of 187 Nigerians on Wednesday night, there is still an average number of 459 Nigerians awaiting evacuation. The Air Peace airline has announced its intention to operate another flight to the airport to bring another batch of over 300 willing returnees. All hands are on deck to see to ensure the return of others just as the fate of the 135 others who were prevented from been evacuated on Wednesday is still unknown.