THE 6th edition of Africa fashion week held at the West Hall of London Olympia was full of grandeur from the catwalks to the exhibitions. Since AFWL debuted in 2011, it has become the largest catwalk event of African and African-inspired design. It has also provided upcoming designers a platform to showcase their talents. This year, they collaborated with Lagos State and Nigerian Export Promotion Council (NEPC).
NEPC was set up with the main objective of boosting Nigeria's non-oil exports and reducing trade deficits. They help in securing sustainable funding sources and assist in putting small and medium size businesses on a stage where they could be recognised thereby facilitating growth.
One of the areas they seek to develop is the garments and textiles industry. Innovative designers are given opportunity to present their design to the world and Bunnies by Maryanne has benefited from this because, through them she was able to showcase her product at the AFWL. When asked how she could afford to bring her goods from Nigeria to exhibit at the AFWL she stated,  "If not for NEPC, I won't be able to afford a stall here or be here."
Bunnies by Maryanne are already made stylish hair-wraps for all hairstyles. The company also produces African print and tie and dye cotton tote bags.
This year's band ambassadors Yemi Alade and Mazi Chukz embodies the essence of Africa Fashion.
Yemi Alade's African originality coupled with her talent and creativity made her suitable ambassadors as AFWL represents every good creation from Africa. The songstress' true Africanness has seen her share stages with famous artists without losing her identity.
As a true Igbo man, Mazi Chukz, mixes Western Street wears with traditional accessories for his everyday outfit. He also appreciates his African heritage and is enthused about African designers.
Unlike other fashion catwalks, AFWL's models are healthy-looking and radiant.  There were no half-starved looking models tottering up and down the catwalk.
Designs were beautifully made and presented in an ambience of African sophistication. In between were dramatic sexy, wearable femme fatale lingerie however, some designers stood out from the rest.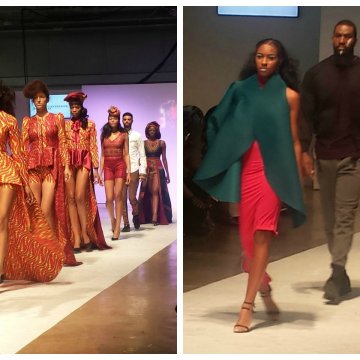 The Anyo's collection delivers wearable clothes that riff on African print and sportswear.  The silhouette is baggy and the style is street. While this mix might not be new, the designer has found a balance between Africa and the west.
The Emporum line stood out for its clean cut and Nubian-princess vibe. The cut would enhance any shape and size as it is A-lined and hits below the ankle. Models were barefooted with traditional anklets.
The vibrant colours of Didi Creations made it very memorable.  The beauty of the design is in the slinky fabric. The dresses swept over the body flowing down to the feet or above the knee.
Nnooll got everyone in the press box talking as the designer captured the merging of navy with subtle bright African print elegantly.