After 17 years, Osun gov's wife brings stranded indigene back to Nigeria
•Reunites him with parents
After 17 years sojourn in many countries in search of better life and getting stranded in Trinidad and Tobago for years with no contact with his family or means of getting back home while suffering from a peculiar ailment, all hope was lost until succor came for Sesan Ojo Oluwadare, an indigene of Osun State, through the wife of the Osun State governor. YEJIDE GBENGA-OGUNDARE, who met Ojo at the airport, reports that he is overwhelmed by his good fortune as he never thought he would step the shores of Nigeria alive nor see his aged parents again.
When Sesan Ojo Oluwadare, a homeless Nigerian man, stranded in Trinidad and Tobago for years stepped down from the plane at the arrival lounge of the Murtala Muhammed Airport, Lagos on Saturday night, he couldn't hide his feelings of joy and disbelief that his dream of coming back to his fatherland had finally become a reality. For him, getting back to Nigeria was nothing short of a miracle as he had lost hope that he would ever get that opportunity again.
His feelings of joy reached a zenith on Sunday morning when he was taken to Ilesa in Osun State to meet with his aged parents who had earlier thought he was dead since he had not been in contact with them for the 17 years that he was out of the country under peculiar circumstances.
Ojo's case was one of a man searching for greener pastures only to end up wasting his years and almost losing his life far away from home without succor or hope; all his aspirations went down the drain as he was homeless and living from handouts from people in the Port of Spain in Trinidad and Tobago. But his journey did not start in this Caribbean nation, he told Nigerian Tribune that he had traversed 10 countries in search of greener pasture before ending in Trinidad and Tobago where he married, had a daughter and lost his wife before he became destitute and ill without having legal documentation for a stay in the country.
Since he left Nigeria in 2003 without informing his parents, he had been moving across towns and countries just to have a better life. Ojo had lived in Mali, Senegal, Brazil, Abidjan, Ghana, Venezuela, Turkey, Morocco and Kevel before ending in  Trinidad and Tobago, his final destination where things got worse for him. He had been trying to come back to Nigeria for over four years with his six-year-old daughter, without success after being homeless and sick for over three years without a job or means of coming back home and having lost contact with his family for long.
Ojo, who lost his wife, a citizen of Trinidad and Tobago almost two years ago, had been unable to do anything for himself and was a burden to people around, making him to cry for help to come back to Nigeria. Some good Samaritans had made a video of him calling for help and the video had gone viral. In the video, he had stated, "I need help to get home, I don't have work, I need help to survive till I go back to Nigeria. I am a burden to everybody. I went to Nigeria embassy to ask for help to come home but they said they cannot help me, they just gave me money to feed for a week but after that I couldn't see them again," he stated in the video.
Ojo is suffering from a peculiar ailment that has caused issues for one side of his body; the veins in the side is shrinking and he is deteriorating and with nothing to do, he decided to come home but couldn't raise the required funds as it was estimated that he would need 10, 000 United States dollars for his flight and a Nigerian passport for his daughter. The viral video caught the attention of the wife of the governor of Osun State, Mrs Kafayat Oyetola, who through her project, Ileri Oluwa Development Initiative, decided to bring him home, get him medical treatment, rehabilitate him and his daughter and reconcile him with his family.
Mrs Oyetola, moved by his plight, she took up the case in her personal capacity as a humanitarian that has been helping the homeless and psychotic people on the street for over 15 years and made the necessary contacts. Since his call for help went viral through a video in September 2019, Mrs Oyetola started working around the clock to bring Ojo back to Nigeria but it was not an easy task due to bureaucratic procedures in the country. The search for his family wasn't an easy task because Ojo couldn't give an explicit address and his description was vague as the area had changed since he left but after a lot of efforts, they were found and after his flight ticket had to be cancelled four times, he finally landed in Nigeria.
Mrs Oyetola did not only bring Ojo back to Nigeria, she ensured she sent a representative, Mrs Abiola Babatunde Ojo, wife of the honourable member representing Oriade constituency in Osun State House of Assembly, to meet him at the airport to welcome him home on her behalf.
And because he is suffering from a peculiar ailment that has caused issues for one side of his body leading to the shrinking of veins, Mrs Oyetola has concluded arrangements for him to undergo treatment at the Obafemi Awolowo Teaching Hospital immediately after he met with his parents following which he will be reintegrated into the society to live a good life and be useful to his family and the state.
Though arrangements were made for his daughter to come down with him, he arrived alone but the Consular of the Nigerian High Commission to the Port of Spain, Essien Akpan, who accompanied Ojo back to Nigeria, said they will continue to do everything necessary to ensure his daughter is released and brought to him in Nigeria. He reiterated that the welfare of every Nigerian in the Port of Spain is the commission's responsibility and they always rise up to their call whenever they hear they have challenges, adding that they can only respond to issues brought to them as some do not make representation to the embassy.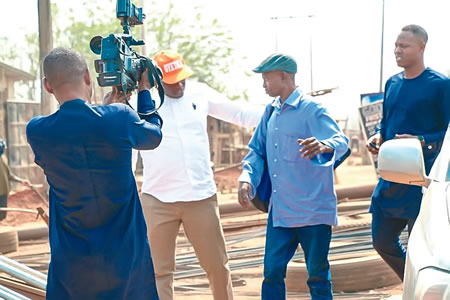 On his arrival, Ojo expressed joy that he finally stepped foot on the Nigeria alive after all hope has been lost. He appreciated Mrs Oyetola for not giving up on him despite the various hindrances she encountered and extended his appreciation to the Commissioner for Works in Osun, Engr Remi Omowaiye, for facing every challenge in the course of facilitating his return home as well as the Nigerian Ambassador to Trinidad and Tobago, Alhaji Hassan Jika Ardo, who he described as a father.
"I thank the governor's wife for not giving up on me; she went through a lot before this trip could become a reality, it wasn't an easy thing but she never gave up. I also thank Engr. Remi Omowaiye for his concern and effort; he was always in touch, working day in and out to ensure I got out of that country. I also thank the ambassador and the consular; they were all good to me and ensured that I was okay and in good condition while the process lasted. I know this happened because God wanted it to happen this way, everything happens for a reason and I thank God for making this work out," Ojo stated.
Speaking further, he said, "I have diverse experiences, both bad and good ones; that is how life is. Trinidad is a good country but a lot of Nigerians are suffering there, they need help. I want government to help the people over there, we have many Nigerians there that do not have papers and are having issues because they are there illegally. Government should work more on their relationship with that country."
The atmosphere at the house of Ojo's aged parents on Sunday morning was ecstatic when Engr Omowaiye led Ojo to see his aged parents.  The old couple couldn't hide their joy that they could still see their son alive. Nigerian Tribune learnt that when they heard about his issue, they wanted to sell their house to bring him back home but they didn't get a good offer until Mrs Oyetola prevailed on them not to do anything of such as she would ensure they get their son back in good health.
For the old couple, Mrs Oyetola's gesture is a sign that humans are angels and God still answers prayers irrespective of how long it takes. They specifically expressed joy that the main source of their sadness has turned in to joy and they can now live in peace with contentment that all is well.
Ojo himself could not hide his feelings as he moved round his father's house like someone in a trance. For him, he has just been reborn and life can only get better.