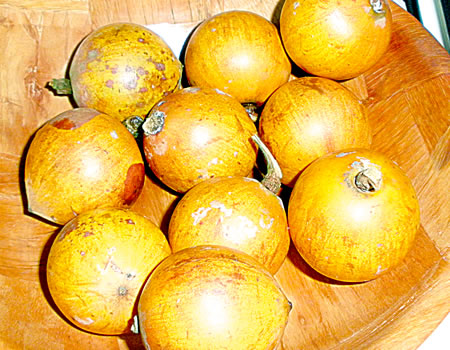 Often times, African star apple or cherry is waved off by many as a fruit for children. But, African star apple, a fruit that is now in season is one that pregnant women should relish to prevent malaria.
In a new study, researchers found that the pulp juice and seed of African star apple contain chemical substances that can protect from developing malaria and so its consumption should be encouraged especially in pregnancy.
The researchers said these substances possess both suppressive and curative properties for malaria, and thus could be valuable in pregnancy where it may possibly serve as an intermittent preventive therapy against malaria.
Pregnant women are at increased risk for malaria infection. Commonly, malaria causes anaemia in the mother, and low birth weight in the unborn baby. The risk inherent from untreated malaria in pregnancy outweighs the adverse effects arising from treatment.
For the study, researchers evaluated the suppressive and curative antimalarial properties of extracts made from pulp juice and seed of African star apple in Albino mice inoculated with Plasmodium berghei.
The 2017 study documented by the journal, Anc Sci Life involved Chibueze Peter Ihekwereme; Frances Kaosiso Okoye; Sandra Chinenye Agu; and Angus Nnamdi Oli, all at the Faculty of Pharmaceutical Sciences, Nnamdi Azikiwe University, Awka.
The seed extract suppressed early infection by 72.97 percent and 97.30 percent, at 500 and 1000 mg/kg, respectively. The pulp juice recorded 72.97 percent and 81.08 percent, at 500 and 1000 mg/kg, respectively. At 500 mg/kg dose, the level of parasite control on Day seven was the same (96.10 percent) for both seed and pulp.
On comparison, Artesunate produced an average percentage reduction of 93.24 percent on day four and 98.64 percent on day seven, similar to that of 1000 mg/kg of C. albidum seed extract.
Artesunate (positive control) recorded 86.48 percent suppression. There were no statistical differences between the percentage suppressions of Artesunate and the seed or pulp extracts, suggesting that the plant material was as effective as the control.
The researchers declared: "The sampled plant parts can be used for treatment and prevention of malaria both in pregnant and non-pregnant individuals.
"Traditional consumption of the pulp by pregnant women does not suggest any harm to the mothers or their babies. Also, the results of the oral acute toxicity test show the pulp to be considered safe.
"This may be advantageous since such food could work in synergy with already acquired immunity to mitigate the infection.
"Furthermore, it would occupy a unique position in the public health structure of such community as disease-causing organisms may not easily develop resistance to whole herbal extracts."
They, however, said that further studies need to be carried out on the plant to harness its antimalarial property.
Previously, researchers had suggested that the bark of African star apple possess antimalarial property. It suppresses early malaria infection by 74.20 percent and 62.90 percent at 1000 and 1500 mg/kg/day respectively.
On comparison with equal doses (at 1000 mg/kg/day), it becomes obvious that both the ethanol seed extract (97.30 percent) and the pulp juice (81.08 percent) have higher malaria suppressive effect than the methanol bark extract (74.20 percent).
On the curative effect, the result from the bark (97.14 percent) is comparable with that of seed extract (94.87 percent) and the pulp juice (92.31 percent).
Botanically called Chrysophyllum albidum, African star apple is an edible tropical fruit known by various tribal names. It is called Utieagadava in Urhobo; Agbalumo in Yoruba; Udala in Ibo, Efik and Ibibio; Ehya in Igala, Agwaluma in Hausa tribes of Nigeria.
Several parts of the tree including its roots and leaves are used for medicinal purposes. The leaves are frequently used to treat malaria, blood pressure, anaemia, dermatological infections, diarrhoea and stomach ache.
The roots are used in the treatment of sterility, sexual asthenia, and asthma; while its seeds are mostly used to treat intestinal worms and haemorrhoids.  The bark is used against cough, yellow fever and also malaria, while the fruit is used for the treatment of dental decay.
Extracts from seeds and roots of Chrysophyllum albidium effectively arrested bleeding from fresh wounds and also promote wound healing.  Its stem bark is also used in the preparation of decoction for the treatment of fever and black-coated tongues caused by increasing population of bacteria and yeast in the mouth.