African leaders eulogise Mugabe at state funeral
•Burial holds next month •South African president booed over xenophobic attacks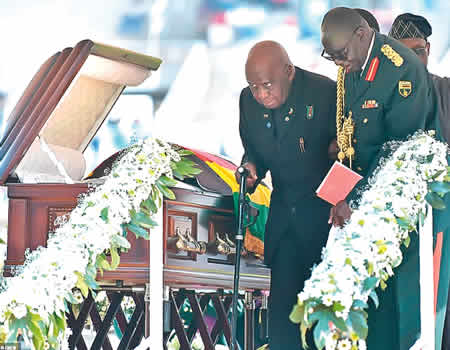 Foreign leaders, supporters and ordinary citizens, on Saturday, paid glowing tributes to the late president of Zimbabwe, Robert Mugabe, at a state funeral held at the nation's capital, Harare.
The funeral came a week after disputes over his burial were laid to rest.
Mugabe, who died in a Singapore hospital on September 6 at 95, led Zimbabwe for 37 years, from independence until he was ousted by the Army in November, 2017.
The funeral service and viewing of the body of Mugabe was held at the National Sports Stadium in Harare.
It came following the compromise reached by the Mugabe family and President Emmerson Mnangagwa that his burial would be postponed for around 30 days until a new resting place for his body could be constructed at the National Heroes' Acre Monument, contradicting an earlier statement that he would be buried today.
More than ten African leaders and many former presidents eulogized Mugabe's virtues at the service in the Chinese-built stadium, which attracted a large crowd.
ALSO READ: UPDATE: Ogun Tribunal throws out Akinlade's petition against Abiodun
It, however, served as an opportunity for the crowd to register their displeasure with the xenophobic attacks being carried out on foreign nationals in Johannesburg by South African indigenes, as the country's president, Cyril Ramaphosa, was almost prevented from speaking.
His attempt to speak drew boos from the crowd, as a result of the recent attacks on Zimbabweansand other foreign African nations, until an official pleaded with the crowd to allow him speak.
Addressing the crowd that gathered in the stadium and other African leaders, Mr Ramaphosa apologised for the attacks.
"I stand before you as a fellow African to express my regret and to apologise for what has happened in our country," Ramaphosa said.
President Mnangagwa led heads of state in viewing Mugabe's body, which was followed by a military 21-gun salute to honour Mugabe.
Zimbabwe president, Mnangagwa walked behind the casket carrying Mugabe's body as it was wheeled into the centre of Harare's National Sports Stadium and placed on a podium decorated with flowers.
In his short comment, he said, "Today, let us put aside our differences and come together as we remember the past and look to the future as one proud, independent and free nation" .