Afghanistan: Rockets hit near Kabul presidential palace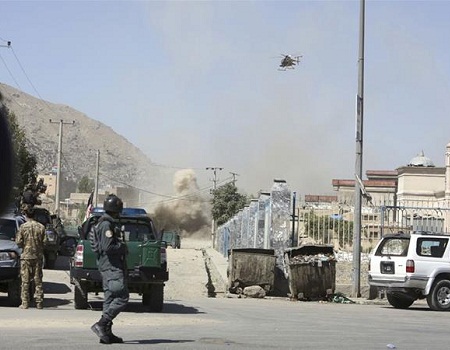 ACCORDING to police, the Taliban has fired several rockets at the presidential palace in Kabul as the Afghan president was delivering his holiday message for the Muslim celebrations of Eid al-Adha.
The attack on Tuesday prompted a ferocious aerial response with helicopter gunships bombing the home from where the rockets were reportedly launched, Aljazeera has said.
The first rocket landed somewhere near the presidency building while the second hit near a North Atlantic Treaty Organization (NATO) compound and the United States Embassy but no one was hurt, said police official Jan Agha.
The boom of the rockets was heard in the live broadcast of President Ashraf Ghani's speech. As he also heard the thud, Ghani interrupted his message to say: "If they are thinking the rocket attack will keep Afghans down, they are wrong."
ALSO READ: Saraki, 2019 and the presidency
The Kabul area where the rockets hit is one of the most fortified in the Afghan capital, where embassies and government buildings are surrounded by high cement blast walls and coils of razor wire.
Many streets near the US Embassy are closed off, as well as those near sensitive government and military locations.
Kabul police spokesman Hashmat Stanekzia said Afghan police had noticed a suspicious vehicle earlier on Tuesday morning and followed it to a mud-brick home near the sprawling Eid Gah mosque where hundreds had gathered to offer their prayers for the Eid al-Adha holiday.
Once inside the house, the suspects are believed to have fired the rockets, Stanekzia told The Associated Press news agency. A helicopter gunship was called in and bombed the location, destroying the house and the vehicle.
Eyewitnesses said that after the explosions, sporadic shooting could be heard from the area, though it wasn't clear who was firing. The witnesses spoke on condition of anonymity fearing for their safety.
Another police official, Mohammed Akram, said four attackers were apparently involved though it was unclear if any survived the helicopter assault on the home. Police were combing the area in the heart of Kabul, where crowded open-air markets intrude on old residential areas of mostly poor, mud-brick homes.