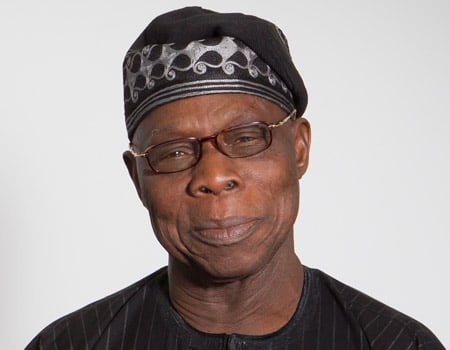 Prominent members of the Afenifere, a Pan Yoruba socio-politcal group, on Tuesday, were on a thank you visit to the nation's former president, Chief Olusegun Obasanjo, in Abeokuta, the Ogun State capital.
Those in attendance at the meeting which lasted for about three and a half hours include Chief Ayo Adebanjo; Senator Femi Okurounmu; Chief Olagunsoye Oyinlola; Ambassador Olatokunbo Awolowo Dosumu; Professor Banji Akintoye; Chief Supo Shonibare; Oladipupo Olaitan and the group spokesperson, Mr. Yinka Odumakin.
Briefing newsmen shortly after the meeting, Odumakin, said they were in Abeokuta to appreciate Obasanjo who had paid a similar visit to the chieftain of the group, Chief Ayo Adebanjo, with some members in attendance, in Lagos, sometimes ago, and that the meeting took time to review the state of the nation.
Asked to comment on whether Afenifere has pitched its tent with any presidential candidate in the forthcoming election, Odumakin, said the position of the group would be made known to the public soonest.
ALSO READ: 2019: Heed Obasanjo, Babangida's advice, don't dare contest ―Afenifere
He, however, said that the group would back any candidate which believed in the restructuring of the country, saying the country would remain stagnant without it.
Odumakin said, "Some few months ago, former President Obasanjo came to Lagos to visit Pa Ayo Adebanjo and we discussed some issues and today we are here too as well to visit him and appreciate his visit to Lagos the other time.
"We are trying to further the friendship so that there can be harmony in Yorubaland so that our people can know that leaders across the divides are coming together to discuss the way forward.
"The 2019 election is going to be interesting, the most important thing for us is restructuring and clearly you should know that Afenifere will always support a candidate that is ready to restructure the country. This is because without restructuring we are going nowhere.
"We have heard someone saying that Nigeria can be restructured and we have heard of another allowing the reports of Confab gathering dust. Clearly, the choice to tilt towards is obvious.  But soon,  our position on this will be formally known to Nigerians. But today,  we are just here to thank Obasanjo for the honour done one of our leaders in Afenifere."