Adopt cooperative federalism, not restructuring, Agbakoba tells Nigerians
• Says approach will solve country's problems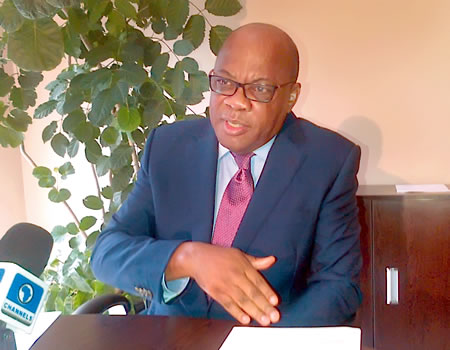 Former President, Nigerian Bar Association (NBA), Mr Olisa Agbakoba (SAN), on Wednesday in Lagos urged Nigeria to adopt economic restructuring and cooperative federalism rather than political restructuring to solve the nation's numerous challenges.
Agbakoba made this call while speaking at a press conference at his Ikoyi office against the backdrop of the rift that had been caused between the north and southern parts of the country concerning agitations for political restructuring in Nigeria.
According to the foremost legal practitioner and human rights activist, the country should rather focus on initiating strong trade policies which would encourage strong internal trade, and create jobs for the citizenry, boost small and medium scale enterprise rather than focus on political restructuring which had become divisive.
Besides, Agbakoba, while casting doubt on the realisation of political restructuring in Nigeria due to apparent opposition of President Muhammadu Buhari and the Northern region to the idea, argued that the country needed to adopt new macro-economic policies and strong business and legal regulations to ensure the development of the country.
ALSO READ: 2019 budget: No allocation for constituency projects to Justice Ministry
"I am not saying that political restructuring is bad, but am tired of it. Let's shift the discussion to economic prosperity.
"Let us stop political restructuring, let us do economic restructuring and cooperative federation.
"The time bomb is coming, presently Nigeria is technically insolvent.
"Political restructuring is a divisive issue; rather the question of restructuring has brought us back. We need to suspend it; the president does not believe in it, so there would be a clash of the heads of actors.
"Let look for a new economy method of developing the country, the new economy advisory panel set up would put smiles on the faces of Nigerians.
"Restructuring is causing us problems between the North and the South; let us adopt cooperative federalism, which would replace agitations for restructuring for now, until we are matured enough to understand what restructuring is all about," Agbakoba said.
Speaking further, the former NBA president threw his total support for the border closure, saying that the nation had become a dumping ground for inferior products from China and other nations which had affected local industries negatively and, therefore, the urgent need to put a stop to the menace.
Agbakoba said rather than called the exercise border closure, it should have been called border enforcement, even as he equally sought for the design of a new comprehensive institutional development design to transform the country.
"We can't grow the economy until political leaders speak with one voice. I support border closure, but maybe it should have been called border enforcement. We need to check ECOWAS countries bringing in goods without obeying rules," he said.
"We need to enforce our border rules. Nigeria is a dumping ground. We need to adopt a protectionist policy," he added.