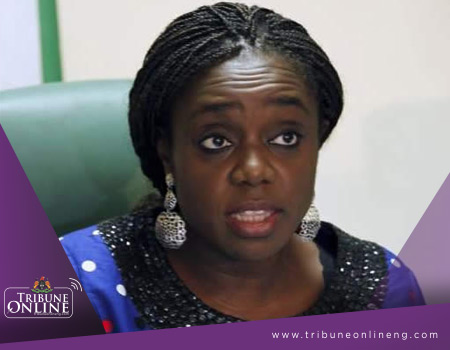 A widespread rumour that Minister of Finance Mrs Kemi Adeosun resigned her appointment on Friday turned out to be false.
Anxiety had mounted around noon when a media outfit posted on its online platform that the Minister had tendered her resignation.
The news was immediately reposted by some other respected newspapers.
However, Tribune online correspondent who was at the Ministry confirmed that Adeosun remained at her desk up to 3.35 pm when this report was being written.
A senior aide of the Minister who was, however, unauthorised to speak on the matter said: "it is not true."
"You should notice that we have not spoken on this matter since July 7 when the issue of NYSC certificate broke.
"It is an agenda that they are pursuing and we will not help them to authenticate that.
"Í am here with you. You can also see the other aides and security details at their duty posts.
"Even the Minister is in her office right now carrying on with her work. Don't mind them", the aide declared.
ALSO READ: Saraki, Lamido woo Edo delegates, slam APC for incompetence
Our correspondent also observed a normalcy around her office without any kind of anxiety or frenzy in their demeanour.
Director of Information, Mr Hassan Dodo said he had no information concerning Adeosun's alleged resignation.
Another senior official who would not want to be quoted insisted, however, that "there is nothing like that".