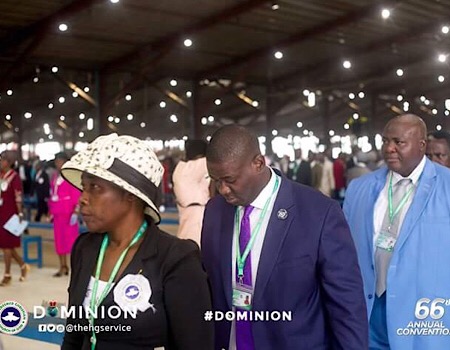 The leadership of the Redeemed Christian Church of God (RCCG), led by its General Overseer Worldwide, Pastor Enoch Adeboye, have elevated and ordained 1,603 persons including his son,  Pastor Leke Adeboye to the position of full pastors, as well as decorated 50 persons as honorary elders.
This development came as one of the highpont events that marked the grand finale of the 2018 Holy Ghost Service convention of the church with the theme: "Dominion".
The event tagged: "Ordination of Pastors and Farewell Service", was graced by virtually all the leadership of the church, as all the new clerics were anointed and ordained by the General Overseer, who was assisted by his wife, Pastor Folu Adeboye and other Assistant General Overseers of the church.
In his congratulatory message, Adeboye commended the newly installed pastors, just as he prayed for them that God grant them special anointing for raising the dead.
He expressed his delight for the success the 2018 convention recorded, noting that the total numbers of babies born during the convention was 110; 57 boys and 53 girls.
"We thank God for an awesome and amazing convention. We're certain that you received complete and comprehensive dominion. Go out therelation and manifest this dominion. Shine your light out there and God will lift you up," he stated.
He further appreciated all the congregation, saying, "I want to say thank you to all of you.  You are blessed congregation. The most high God. The one who rules the kingdom of men. The one who speaks and it is done. We bless you Lord. He will answer your prayers and He will give you permanent dominion.
"Before you call,  God will answer you. He will prosper you in all your ways. Everyday, you will have special testimonies Your joy will be full.
"Before you get home, good news will get to you. You will serve God till the end. Almighty God will go with you. Each time I hear concerning you,  it will be good news," Adeboye prayed.
In his reaction, Pastor Leke Adeboye described the elevation as a big responsibility that must not be taken lightly.
"As the anointing is for demonstration of God's love and power and not for decoration. If you don't use it for what it is meant for God will remove it and remove you.
"Before ordination, you must cleanse yourself, as whatever the anointing oil meets there is what it would amplify," he added.