ADC will shock all in 2019 elections —Isiaka, guber candidate
Governorship candidate of the African Democratic Congress (ADC) in Ogun State, Gboyega Nasir Isiaka, in an interview session with some journalists in Abeokuta spoke about the general elections and other issues. OLAYINKA OLUKOYA presents excerpts.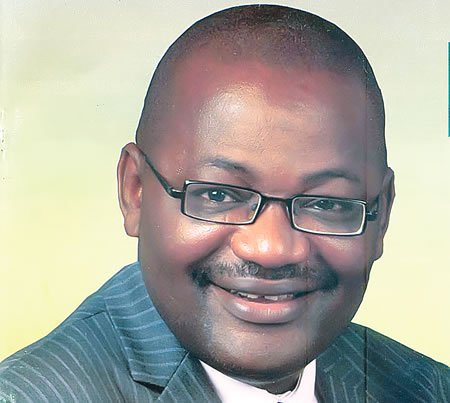 Former Governor Olusegun Osoba recently remarked that the political terrain in Ogun might be a bit dangerous, given the situations in the two major political parties. How has it been since you kick-started your campaign?
I would describe the situation as very complex. I have been involved in the politics of Ogun State since 2011. I think the situation we have now is a bit more complex in my view than what we had in the past. I would want to concur with Chief Olusegun Osoba in his observation, I think that he knows more than many of us, and he has more experience. There are some other things he sees that we don't see. From my own perspective, in one hand we have an incumbent governor who has declared that the candidate of his party is not his own candidate. We also have in another hand a party where the faction recognized by the Independent National Electoral Commission (INEC) is different from the one the party gave its flag to. Summarily, I would say it is very complex; but some of us have prepared our mind for some of these before now. It has not come to us entirely by surprise. That was why we moved away from some of these big parties into a movement about a year and half ago. And we have now moved to a registered platform. It is all because we had expected that some of these issues in these big parties were not likely to have been resolved and that is exactly what is playing out.
What's your take on the huge debt you alleged at your campaign that the current administration has incurred?
I presented two things that day – I did an overview of the state on how governance should be and it was after doing that I now presented my campaign manifesto. What I did, in the first instance, was just to brief us on how we are as a state and how we have grown as a state. And in one of those, I just made reference to the quantum of debt that we have. I also made references to the state of education and some other things. So it was when I was talking about our fiscal state that I mentioned some of those. I didn't make any reference to it at all when I was making my presentation on what and what we were going to do. I never said that debt is bad; what I have been saying is that it must be in relation to projects that are highly developmental or those that can make major difference in the state in terms of employment generation, social development and other things like that. One thing is certain, whether we like it or not, Senator Ibikunle Amosun must step down as governor in 2019 and somebody has to take over. Whoever is taking over — and I pray it is I, is taking over the assets and liabilities of the government. The responsibility I have is to make the best use of the assets, and then to see how I can turn the liabilities into assets and to also look at what we have.
If you emerge as the next governor of Ogun State, will you abandon projects you don't believe in?
I am an apostle of not condemning projects or stopping projects on the ground of politics. I had to come out with different articles when this current government took over in 2011 and there were moves and attempts to jettison economic projects on ground of politics. And some of those projects, I even listed in the article which I called 'Development of Ogun State, the Anambra Experience'. I held a very strong view that you cannot cancel eight years in the life of a state and that the responsibility of the next person that takes over governance is to make the best of the assets and turn the liabilities into assets. That is where I stand. I will not want and I will not be part of the people that would want to abandon projects on the ground of politics. Projects can be reviewed.
One of the concerns of the electorate is that GNI is popular but does not have enough fund to prosecute campaigns and the election. How do you intend to fund your campaign, knowing fully well that you are up against two major parties?
Campaigns are usually funded by the people that believe in the candidate. Anybody who thinks it is easy should come out and contest. The fact of the matter is that I have an idea, I have a project, through internal generated support this is being done. And when you have people that believe in your idea, they will surely fund it.
The governor is supporting a candidate from Ogun West who is not in the same party with him. Don't you think this will affect your chances since you hail from the zone too?
In 2011 when I first contested, the sitting governor then supported me with everything. We all saw what happened. In 2015, state machinery was deployed and the incumbent who had become popular all over the state vied with me. We all saw the result. But you are now bringing somebody out who is relatively unknown wanting to run on a platform that is clearly unknown. I think we will wait to see what will happen. And talking about Yewa, what we should be saying now is that these people are now united. I have visited the Yewa Council of Obas twice. I have never seen what I saw there before. Without mentioning names, I know what people have been saying. What we have now is a lot more. And talking about another person coming from Ogun West; no problem. We would have preferred that the governor, having stated he wanted to support Ogun West, the strategy would have been different particularly when his preferred candidate has moved to another party. We do not have any issue with that. I think it will act positively in our favour, because the lessons we have learnt is that it is not easy for people to identify with a candidate less than seven or eight weeks to a general election.
If you are elected as the governor of Ogun state, will you audit the state's account?
It is not about auditing, but ensuring that you do the needful in all that you do. Even a particular government that is working can say we want to have a review of this project to see if it has value for money. To me,  that is not about witch-hunt, it not about running around without facing what you have to do. The most important thing is that we must get value for our money.
What is your reaction to the refusal of the president to sign the amended electoral bill into law?
To me it is condemnable, honestly speaking. It is condemnable in the sense that this is about the third one. They brought it to the presidency, they said they should go and change it again. That means there are other reasons behind the refusal to sign the bill. To me, I think the National Assembly is doing what it needs to do for us to have a cleaner election in 2019. I remember very well this was the third time that the Bill was being turned down. The last time the bill was sent to the Presidency, they made some complaints. The National Assembly took it back and amended it, still it was not signed. I don't think that is what democracy is all about; and if the party in power and the president are so sure of themselves, they are so sure that they have done well for the people -though I am not so sure of that – it should be through this kind of road. Those things shall be put in place so that we can have a cleaner election. We can have a cleaner democracy. And I don't think that the government in power should now be a clog in the wheel of that progress. I think the National Assembly is trying to achieve that.
What role is former President Olusegun Obasanjo playing in your party?
The former president is not a member of our party; he is just a guide because he started a CNM which now transformed into ADC. I don't know who will be governor of Ogun State and under any platform that will not want to discuss with Baba Obasanjo. He is an institution in Africa. Even if I have gone ahead and won election through any platform, I would still have to discuss with him, take advice from him. And I am sure that he has bigger things facing him than to be asking for unnecessary favours at the state levels. I don't know who would want to be the president of Nigeria that won't want to associate with him.