Activists denounce separatists' call for creation of Biafra, Ijaw, Arewa nations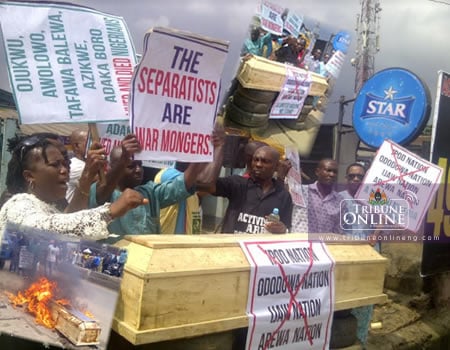 A group, Activists for Good Governance (AGG), has denounced the Indigenous of People of Biafra (IPOB) agitations for for Biafra nation, and other separatists' calls for Oduduwa, Ijaw and Arewa nations.
The group, in a protest on Sunday, said it stood solidly for a united Nigeria as combination of strength and weakness would make the country stronger, as it thereby set ablaze a coffin symbolising agitations for these nations.
Convener of the group, Comrade Declan Ihekaire, led other members, including Comrade Olusegun Adeeko, shortly after addressing a press conference at Orile- Agege in Lagos, to perform what he called annual rituals where policies and agenda that were not in masses' interest were set ablaze.
"What we are about doing now is our annual rituals where we set ablaze policies, certain agenda that are not people inclined, that are not in masses interest. We are going to set ablaze IPOB nation, the Ijaw nation, the Oduduwa nation, the Arewa nation and we say on united Nigeria we stand.
ALSO READ: IPOB members, soldiers clash at Nnamdi Kanu's home
"If Ojukwu lived and died a Nigerian, Awolowo lived and died a Nigerian, Nnamdi Azikiwe lived and died a Nigerian, then we shall all live and die as Nigerians. All the agitations for those nations should be set ablaze, let it be clear to the agitators that we are saying enough is enough, enough is enough," Ihekaire said, and conseguently lit the coffin, which went up in flame.
Addressing newsmen earlier, the AGG convener, noted that calling the bluff of the separatists agitators in the country was the core point of the press conference, saying that such agitations by some individuals and groups aimed at separating or tearing Nigeria apart had reached their peak "and if not addressed by Nigerian state and dedicated Nigerians could appear a victory for those elements."
He said having watched with keen interest the group came to the realization that what Nigeria needed as a country were crop of good leaders who would harness her resources for betterment of all and not for nations within the country to go their separate ways.
According to him, "Nigeria's founding fathers worked for a united Nigeria despite their differences because they saw the light in Nigeria nation as a united one."
"However, our new crop of leaders and some followers have been working earnestly to cause hatred among the citizenry by calling for separation. No doubt, combination of strength and weakness will make Nigeria stronger," he declared.
Speaking further, Ihekaire contended that the present day separatists agitators in the country could not and would not be wiser than "late Ojukwu from the East, Papa Awolowo from the West, Azikiwe from the East also, Tafawa Balewa from the North, Adaka Boro from the South South."
"For all these reasons, our agitators rather than beating the drum of ethnic war and embarking on a genocidal hate speeches should form a formidable forces against the spoilers/looters of our treasury.
"The separatists should have a rethink and put all efforts towards challenging our elected/appointed leaders to performance," he counselled.
The AGG convener also enjoined the Federal Government to avoid being seen as ethnic inclined through appointments or selections of people to fill offices, declaring that "appointments should be and must be based on the Federal Character Policy but for the best qualified persons."
According to him, should this advice be heeded, it will go a long way to reduce current agitations in the country.