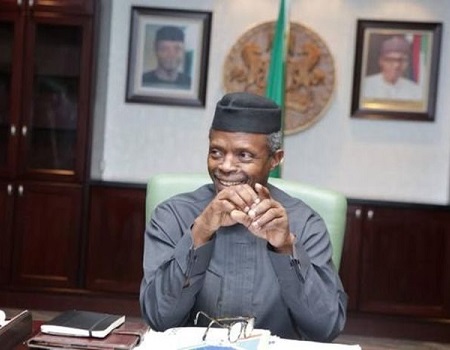 AN Abuja-based human rights activist and legal practitioner, Barrister Ahmed Ajibola Jimoh has written to the Acting President, Professor Yemi Osinbajo (SAN) to compel the Inspector General of Police (IGP), Ibrahim Idris to unseal the corporate head office of the Peace Corps of Nigeria (PCN), which was unlawfully sealed up by the police since February 28, 2017.
The human rights activist specifically wants the Presidency to direct police authorities to respect the rule of law and obey court orders directing them to vacate the office located at No. 57, Iya Abubakar Crescent, Abuja.
In a letter of appeal, addressed to the Acting President, dated August 13, 2018, Jimoh informed Osinbajo of the subsisting two judgments of the Federal High Court, Abuja which ordered police to unseal the office but was not obeyed till date.
The letter titled: "Appeal to Mr. President to compel Police to respect rule of law on Peace Corps of Nigeria," intimated the Presidency that the Corps has been made to suffer untold hardships by the action of Police in sealing up the office unlawfully.
ALSO READ: Awoniyi's daughter joins Kogi House of Reps contest
The activist recalled that Justices Gabriel Kolawole and John Tsoho, have at different times, in their judgments issued orders to the Police to unseal the office in the interest of justice and fair play.
Jimoh, however, noted with regret that Police rather than obeying the court orders chose to remain adamant by blocking the entrance to the office with a heavy truck and stationed several of its men to prevent the officers and men of the Corps from accessing the office as directed by court.
The activist warned that the use of naked powers and oppression against the youth in the Peace Corps of Nigeria, who are being prepared for a bright future, were capable of spelling doom for the nation and therefore urged the Presidency to passionately wade into the matter and order Police to vacate the office.
Besides, the activist also drew the attention of the Presidency to the order of the House of Representatives Committee on Public Petitions to Police to vacate the office based on petitions by the Coalition of Civil Society Organization for Justice and Equity, adding that till date, the Police have chosen to close their eyes against natural justice and opted to take laws into their hands.
He, therefore, pleaded with the Presidency to compel Police to allow the Peace Corps to access their office and property as ordered in the two court judgments.
---
---