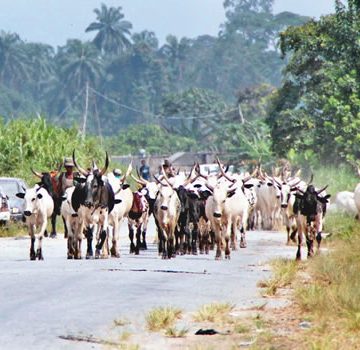 Benue State House of Assembly on Thursday held an emergency sitting and described the outburst of Miyeitti Alla group as act of treasonable felony.
Hence, the House called on the Inspector General of Police (IGP), Ibrahim Idris to immediately effect the arrest and prosecute them.
Speaker of the House, Mr Terkimbir Ikyange had ruled on the motion brought before the House by the Majority Leader, Benjamin Adamu.
The majority leader said in his motion that the comments of the leaders of Miyeitti Alla amounts to treason, saying, "It has become clear that the attack on Benue communities is not as a result of quest for grazing but an agitation to takeover state."
Recall that the National President of the Association, Alhaji Abdullahi Bello and Secretary, Engineer Saleh Alhassan, had on Tuesday addressed a press conference in Abuja where they not only kicked against the Anti-Open Grazing Law recently enacted in the state, but vowed to mobilise their members nationwide to resist the implementation of the law.
According to the House, the group also erroneously attributed the herdsmen/farmers crisis in the state to the struggle for natural resources and laid claim to being the real inhabitants of the Benue Valley.
Mr Ikyange equally mandated the State Governor, Samuel Ortom to lead a high powered delegation comprising all the senators and members of the House of Representatives from the state, the speaker of the State Assembly and other prominent indigenes of the state to meet President Muhammadu Buhari to brief him on the grievances of the state as contained in the publication.