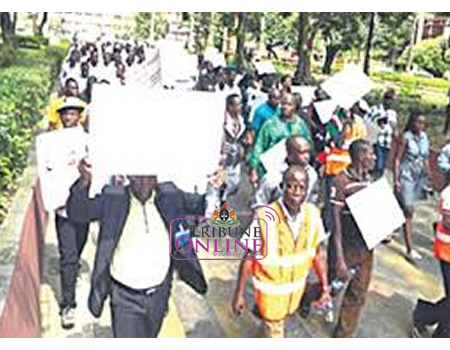 CIVIL Servants under the aegis of Academic Staff Union of Research Institute (ASURI), on Tuesday, again stormed and barricaded the office of the Permanent Secretary, Federal Ministry of Science and Technology, Dr (Mrs.) Amina Shamaki over promotion, training and other staff allowances.
The demonstrators, who started the protest from the main entrance of the ministry, also vowed not to allow her entering her office until she was transferred out of the ministry.
They carried various inscriptions which read thus: "Shamaki was dismissed from service and recycled through the back door; Head of Service of the Federation (HSoF), can you tell Nigerians Shamaki never dismissed?; as well as Shamaki is the most corrupt Permanent Secretary in Nigeria and Shamaki was rejected at the Ministry of Health; booted out of the Ministry of Women Affairs and dumped at the Ministry of Science and Technology."
The National Secretary General of the union, Dr Theophilus Ndubuaku told Tribune Online that the protest continues unabated until she was moved out of the ministry.
As at the time of filing this report, the protest was still ongoing.
---
---