At Abolarin College: Dele Momodu, Abati harp on cultural- tourism education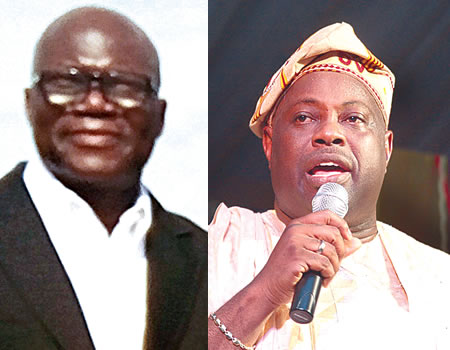 Two Nigerians who have distinguished themselves in arts, culture, tourism, travels and literature, Otunba Dele Momodu, publisher of OVATION magazine and Dr  Reuben Abati, a seasoned newspaper columnist and former Presidential spokesperson harped on the necessity of ensuring the teaching of cultural–tourism education in  institutions of learning.
Otunba Momodu said "Apart from the moral, ethics, values and mores which cultural–tourism education exposes the students to, it also moulds their character and inject in them the consciousness of their being a functional member of their community with a grasp of its tourism potentialities".
The two journalism practitioners made their submissions separately in Oke–Ila Orangun. Osun State where they were special guests of honour at the end of session ceremony of Abolarin College, Oke –Ila.
Otunba Momodu who addressed the guests and students said that he was elated and happy that the founder of the school, Oba Adedokun Omoniyi Abolarin is not only a traditional ruler who is widely exposed and travelled, but has never allowed his cosmopolitanism to rob him of the necessary dictate and observation of cultural- tourism values .
Otunba Momodu who spoke in unblemished Yoruba first of all recited the cognomen of his mother which greatly impressed the parents and the students who gave him a standing ovation also commended the students of the school for 'a superlative display of cultural dance".
"I am happy and proud not only because of the fact that Oba Omoniyi Abolarin has planted a generational factory of wisdom and  fountain of knowledge here, but also the fact that these leaders of tomorrow are inculcated with cultural–tourism ethics."
Otunba Momodu said 'For a person to be a total man, that fellow must not only  be educated and professional in his area of calling, but must be at home with his cultural values. Anybody with no cultural affiliation has no identity .  And I am happy seeing this manifesting in the socio–cultural interaction of these students here in Oke–Ila"
He commended Oba Abolarin "For having within his thought process the fate of the downwardly poor and poverty wrenching people who God has blessed with children who are though educable, but being deprived economically from going to school".
Otunba Momodu pointed out' I feel great always to showcase my cultural identity anywhere. I see my studying of Yoruba in the university as a veritable advantage which enabled me to gain deep knowledge of the wisdom of the words."
Reinforcing this stand, Dr Reuben Abati  was conducted on a tour of the school including the laboratories worth 10 million naira donated by   Honourable Lanre Laose Fundation by Oba Abolarin said that the nation needed  a cultural–tourism rebirth to enable the present and future generation withstand and survive the rampaging wind of cultural indoctrination and domination engendered  by globalisation.
"We should start the cultural–tourism right from the primary school for proper understanding and appreciation of the value. We must start now. It is necessary".
Dr Abati eulogized Oba Abolarin for his vision for every child and his stride at stoking an intellectual revolution from a hitherto unexpected quarters of the have not.
"Honestly Kabiyesi, you are kick starting a revolution, an educational revolution with distinct and unique features of moulding a mind, moulding his physical features and making him responsible to his community invariably the state and the nation  and then to the global sphere".
Oba Abolarin in his response thanked the two special guests and acknowledged the enormous contribution of the Grooming Company delegate led Dr Godwin Nwabuanka, which include Messrs Alexander Enyinnah and Adesoji Taiwo for believing in the mission of the school while he commended Dr Obawale Adebisi, Commissioner for Home Affairs, Osun State who commissioned the laboratories donated by Honourable Lanre Laose Foundation.
Oba Abolarin declared "It is the mercy of God and His glory that has enabled us to go so far. It is our vision to produce a bundle of well educated indigent students who are not only excellent in their studies but well honed in cultural- tourism value".