Producers, cast seek cultural revival with Unstable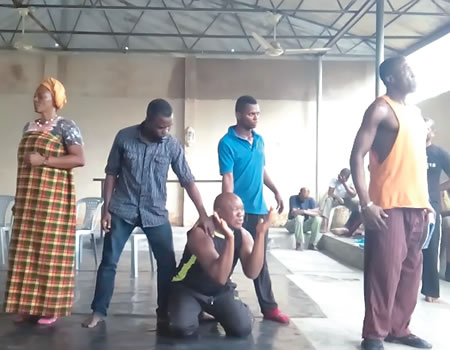 Directed by Ben Tomoloju and featuring Tina Mba, Ropo Ewenla, Segun Dada and Bassey Okon among others, the play aims to entertain and promote culture
WHEN Dickson Ekhaguere's Unstable opens at the MUSON Centre, Onikan, Lagos, on Saturday, June 24, it will be joining a select group of Nigerian plays that  made it to the stage from  just being  a published text.
Winner of the ANA Drama Prize in 2015, the play is being brought to life by MYL Nigeria Limited, which is leaving no stone unturned to ensure its success.
In a move underscoring their seriousness, executive producer, Ifeanyi Avajah and project coordinator, Gbenga Akinruli, both chemical engineers, have enlisted some of Nigeria's finest crew and cast to fully interpret the play and give theatre lovers a great time.
Directing Unstable is a renowned director, playwright and culture activist, Ben Tomoloju whose directing credits include The Wives Revolt, Itan and Kurunmi.   Assisting him as dance director is Emmanuel Adejumo and Taiwo Fasuyi, as costumier.
Leading the cast is stage and screen veteran, Tina Mba;  the young actor and voice over artist, Segun Dada who played starring roles in Wakaa The Musical and Itan; leading light of the Ibadan Play House, Ropo Ewenla and Olu Okekanye. Others are the accomplished actress, Inna Erizia, the performance poet, Iquo Diana Abasi, Jolomi O Jolomi, the saxophonist Oyin Gbade and actor Bassey Okon, who recently returned to Nigeria after several years sojourn in the US. There will also be guest appearances by Temi Oyedele, Macati and Soma of Big Brother Naija.
Set in the cultural splendour of a fictional kingdom reminiscent of ancient Benin, Unstable tells the story of the powerful King Ido (Okon), who rescues a beautiful whore and outcast, Esewi (played by Mba) from a bloodthirsty mob. Her beauty gradually draws him to her and his unbridled love for her despite her multiple indiscretions eventually becomes his nemesis. Esewi's dangerous liaisons inevitably bring King Ido in direct conflict with a powerful rival king (Ediae) and create a series of tumultuous events, capable of plunging his kingdom into chaos.
Reacting to questions after a press preview of the play last week, director Tomoloju explained that Unstable is not an historical play but a work of imagination which goes beyond culture to experimentation. He assured lovers of live theatre that they would thoroughly enjoy watching the play with a 35-person cast.
Playwright Ekhaguere, who studied Public Health, disclosed that he never expected that Avajah would undertake to produce the play, while attributing their meeting to a 'divine arrangement'. "I didn't expect anything big from this relationship but he [Avajah] started showing me things I didn't see before. God brought us together," he said.
Avajah, on his part, said he found the book irresistible and that he didn't get up from where he sat until he finished reading it. "The language drew me into the work and I said we have to do something. That was why I contacted Ben T and told him I wanted him to direct the play."
The major objective of the production, apart from its 'edutainment' values, according to Akinruli, "is to light the fire that will revive live theatre. We want to look at what we can do long term to bring theatre as a competitor to the cinema. Looking at it, you'll realise that we are losing the younger ones at the theatre, so this production has elements for the youth. We need to capture the young demography and pass on the torch of live theatre to them."
On why she decided to feature in the play, the award-winning Mba said: "Reading the script, I felt my character's strength and pains. This sounds like someone familiar; there's an Esewi everywhere. Besides, the revival of our stage play culture is an important one, especially for the younger generation. This is an awesome opportunity for them to connect to our roots. There has been too much 'Americanisation' in our subculture. We need to tell our own stories. We are our cultures and traditions. Without them, we are no one!"