Insecurity: 80,000 Boko Haram, families have surrendered so far – FG
"As at today, more than 80,000 Boko Haram associates including women and children have surrendered to the Government"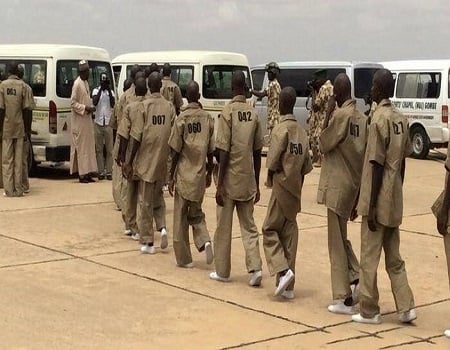 In its renewed efforts toward tackling insecurity across the country, Federal Government has reiterated its resolve towards ending the recruitment of children and Girl-Child into armed and ideological groups across Nigeria.
Permanent Secretary, Federal Ministry of Humanitarian Affairs, Disaster Management & Social Development, Dr Nasir Sani-Manzo gave the assurance in Abuja, during the flag-off of one-day sensitisation and awareness on Non-State Armed Groups (NSAGs) and exploitation of Juveniles into armed and ideological groups.
According to the Facilitators who spoke during the sensitisation workshop, these terrorist groups usually exploit Juveniles to serve as child soldiers, informants, spies, fighters/attackers, bomb detonators, while the females serve as cooks, sex slaves and other domestic activities.
In the bid to achieve the feat, Dr. Sani-Manzo tasked stakeholders on the need to devise preventive strategies for Juveniles that show traits commiserate to extremism behaviour and educate others on the exploitation of juveniles by non-state armed groups.
ALSO READ: FGM: Why many indigent people may go to jail
According to him, the Programme was intended to create awareness on the recruitment process/ ills of exploitation of Juveniles by NSAGs as well as discourage minors from developing interests to participate in or aid the activities of Non-State Armed Groups (NSAGs).
Other Facilitators who spoke during the sensitisation workshop observed that the Non-State Armed Groups are individuals or groups that are wholly or partly independent of Government and took arms against the State or person(s) to achieve their aim which normally could be economical, political or ideological.
They violently use arms and propaganda to promote their agenda. Examples of NSAGs are Boko Haram/ISWAP, bandits, kidnappers, armed robbers, etc.
They however affirmed that Federal Government has put in place some institutional frameworks charged with child protection issues, including protection against violence. These include National and State Child Rights Implementation Committees, Child Development Departments in the Federal and States Ministries of Women's Affairs.
"This programme has made many communities under the control of Boko Haram also surrender to government, thus saving their children from forceful recruitment by the terrorist groups.
"As at today, more than 80,000 Boko Haram associates including women and children have surrendered to the Government and more are expected to do so," he said.