7 million children with disabilities are out of school in Nigeria —Basirat Razaq-Shuaib, SDGs and disability-inclusion advocate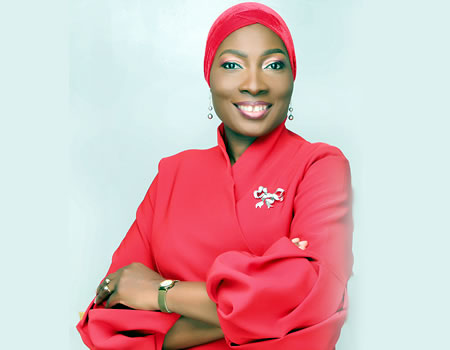 Basirat Razaq-Shuaib is an author, an educationist, a cognitive specialist and a finance expert. An SDG enthusiast and CEO of Winford Centre for Children and Women, she advocates for children with developmental disabilities. In this interview by KINGSLEY ALUMONA, she speaks about her foundations, the Almajiri system, the Discrimination against Persons with Disabilities (Prohibition) Act, and her advice for young people.
YOU are the first Mansion House Scholar in Nigeria. How did the scholarship help your corporate and humanitarian careers?
It is a prestigious scholarship awarded by the Lord Mayor of the City of London to young business executives from overseas to travel to the United Kingdom to study, undertake training or work in the financial services sector. It has been a door opener, affording me opportunities and access to a network I may otherwise not have been able to access. The scheme's core idea of building others to build self is well reflected in my humanitarian work.
You are the CEO of Winford Centre International and Winford Centre for Children and Women. How do you fund them?
The Winford Centre for Children and Women is a charity. It is a certified autism centre and a UN Global Compact partner organisation. The charity is funded mainly through donations, grants and product sponsorships. The Winford Centre International is a dedicated platform and the biggest online store supporting children with special needs in Nigeria. We retail special-needs learning-aids courses. It is funded by shareholders' equity. Both organisations, small in size, are well-structured and planned for sustainable operations.
You are an economist and a finance expert. What in You are an economist and a finance expert. What inspired your interest in Sustainable Development Goals (SDGs) and children with disabilities? spired your interest in Sustainable Development Goals (SDGs) and children with disabilities?
My interest in disabilities spiralled when someone close to me, who has a child with special needs, couldn't find the right educational setting to support the child. Upon research, I realised that the problem is a global one. This is where the SDGs come in, to create a better world by solving problems in the most innovative and sustainable way. When you consider that around 15 per cent of the world's population has a form of disability and an estimated seven million children with disabilities are out of school in Nigeria, then you know this cannot be ignored.
CBN injects $311.5m, CNY15m to forex market
You promote United Nations SDGs 4, 5, 10 and 17. Which of the SDGs are proving difficult for your team to actualise?
The most challenging ones are SDGs 4 and 10. For SDG 4, faulty education system, poverty, inadequate policies and funding, obsolete curriculum, lack of awareness of disabilities, stigmatisation, cultural and religious beliefs are the major factors that make the achievement of the goal more challenging.
SDG 10 targets social and economic inclusion of people with disabilities. Some factors listed for SDG 4 also apply to SDG 10. Past efforts have been on providing specialised services for persons with disabilities. However, future efforts should focus on enhancing services to all, regardless of disabilities. Attaining true development can only be possible if inequalities among different groups in the society are addressed.
Do you think Nigerian government has the political will to actualise all the SDGs before 2030? How can the citizens help?
The attitude towards the attainment of SDGs has been positive, especially with the launch of the Nigeria Integrated SDGs Model Report. However, I think to achieve all the SDGs by 2030 will be tough. It's encouraging that the citizens are not treating it as a government-only affair, as seen with the increased women and youth participation. I encourage more private-sector organisations to buy into the vision and become UN Global Compact partners to accelerate the achievement of the goals.
Are you for or against the prescription of the Almajiri system?
The Almajiri system was built on cultural and religious tenets, which doesn't meet the standards for formal education. Although it originally served its purpose of providing Islamic education, the system has since been abused and could benefit from an overhaul. The deep-rooted nature of that system also means it can still be leveraged on to provide formal education to children, albeit with proper education planning and a multi-faceted approach. The government can work with Almajiri scholars and get them to incorporate formal education into their teachings, while using a reward system to combat the poverty aspect of it. A mindset shift is required in the North to make this work.
Which kind of disabled children do you advocate for? And, in your opinion, how has state autonomy hampered inclusive education for disabled children?
We advocate for children with developmental disabilities. In a UN report on disabilities provisions in Nigeria, the autonomy of the states was found to be a problem, making it difficult to implement centrally-made laws across the various states. So from scratch, a revised approach must set out to avoid that problem by establishing central control and accountability. If the centre fails to hold, everything will fall apart.
Early this year, the president signed into law the Discrimination against Persons with Disabilities (Prohibition) Act. How effective is this law? And, does it, in any way, make your work easier?
The Act is a good place to start, although it has loopholes and is not as robust as it should be. For instance, there is a section covering accessibility—but accessibility only to physical structures. In this technological age, accessibility in the virtual space should also be priority. Beyond the law, we would like to see enforcement and implementation. Prior to this law, there have been other laws and policies covering the rights of persons with disabilities but not much has been seen in terms of effectiveness. If fully implemented, the Act will definitely help.
Tell us about your children's book 'I Am Not Naughty'. How has it helped to create disability-inclusion awareness in basic education level?
My book, 'I Am Not Naughty', was inspired by my experiences growing up in Nigeria where there is still a poor awareness of invisible disabilities and my drive to do advocacy in a different and more sustainable way. The book tells the story of a boy who appears to be badly behaved, but unknown to many, his behaviour is a result of his disability. I've found that in Nigeria, only a few people are actively talking to children about disabilities, thereby creating a huge knowledge gap. Therefore, by reading this book, children are introduced to the concept of disabilities in a fun and relatable way. They are also taught how to support affected children in their families and communities. Till date, we've read the book to over 350 children as part of our pioneering 'Inclusion Starts With Me' initiative. All the proceeds from the sale of the book go to charity.
Apart from your humanitarian endeavours, what other job(s) do you do? And, what are your major challenges as an SDG and children advocate?
I offer training and consultancy on creating disability-inclusive schools and organisations. As for challenges, the first one is getting people to change an existing belief or mindset (especially about disabilities inclusion) because that's where it all starts. Secondly, it is getting enough funding—at the charity—to execute the life-changing projects and ideas we have.
How do you manage work with family? And, what do you like doing at your leisure?
I prioritise the things that are important to me. I delegate tasks and I leverage on my family, network and community for support. I've learnt to be disciplined with my time. I plan my tasks and try to stick to them. It's not easy but with practice, it gets better. I enjoy watching movies, listening to music and spending time with friends and family.
What advice do you have for young people, especially the female ones, who are aspiring to be like you?
Stay focused. Keep your eyes on the ball. Be disciplined because you won't always be motivated. Get some mentoring—the journey ahead will be tasking and you could use some advice from people who have walked the path before you. Network, meet new people, develop genuine relationships and be a person of value. Lastly, look after yourself.