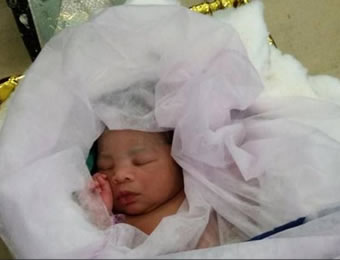 A couple who reside in Abeokuta, Ogun State, has been delivered of their first baby after 40 years of marriage.
A press release signed by Chief Information Officer, Ogun State Ministry of Health, Mr. Ayo-Ola Obadimu, noted that the 66-year-old first-time parents were visited by the Ogun State Governor, Ibikunle Amosun, who felicitated with them and described the joyous incident as the "first of its kind in Africa and second in the world."
Amosun, who paid a congratulatory visit to the family of Professor and Mrs. Samuel Otunbusin for setting a new record of having their first baby after 40 years of marriage, noted that the state had scored another first in history, not only in Nigeria but in Africa.
Amosun expressed his joy, saying; "On behalf of the good people of the state, I congratulate the family of Prof. Samuel Otunbusin.
"I learnt this is the first of its kind anywhere in the continent of Africa, though we are not surprised because Ogun State is known for its first, especially in the area of medicine."
While imploring people to always have faith in God and patronise medical experts in the country, Amosun called on them to also believe in the medical services provided by the government, positing that this development has showcased the capacity of the state, especially in the health sector.
The Commissioner of Health, Dr Babatunde Ipaye, while congratulating the new parents, said, "we implore our people to believe in our services so as to patronise our experts in the health sector.
ALSO READ: Ogun APC chieftain petitions Police over alleged threat to life
"This recent development has further showcased the capacity we have in the country, particularly in our dear state; and we enjoin our people to take advantage of the partnership that we are building, so that, together, we can sustain the enviable position the state currently occupies."
The elated mother, Mrs. Ajibola Otunbusin, expressed gratitude to God for the "wonderful gift," even at the time all hope had been lost, saying, she had undergone numerous procedures without success in different specialist hospitals, both at home and also overseas.
Otunbusin urged women who are facing similar challenges not to lose hope, but to remain positive and keep looking up to God.