Yoruba's money-spinning dye production dying
Since time immemorial, the Yoruba people have been identified as core producers of indigo dye used for Adire production, but in spite of civilisation and mass production, the craft, unlike Adire production, still remains uncelebrated though it is a money-spinner for the few people involved in its production as well as importers and retailers. YEJIDE GBENGA-OGUNDARE reports. 
The Yoruba people of South-west Nigeria have a rich cultural background that spans the early years before civilization; twelfth century to the nineteenth century and covers various aspects of human endeavours – arts, religion and commerce among many other important aspects of living.
History has it that the Yoruba's made landmark achievements as well as contributions towards civilization and development in areas such as bead making, sculpting, mat and cloth weaving, leather work, pottery, blacksmithing, leather work, gourd decoration, cloth dyeing and pattern popularly known as Adire, a textile that continues to be relevant from generation to generation.
As celebrated as Adire making is, another important aspect of life which is the bedrock of the renowned Adire business continues to be overlooked – this is the production of indigo dye. From the ancient days, production of indigo dye is a big business and it continues to be a big business that makes people that engage in it millionaires without any form of noise or fanfare.
Osogbo is traditionally renowned as the home of indigo dyes and the headquarters of dyeing. And right from the Stone Age, the town goes by the appellation, "Osogbo oroki ilu aro, Aro nbe l'Osogbo" meaning Osogbo the town of indigo dye, indigo dye is in abundance in Osogbo.  Historians claim that in times past, Adire producers in Abeokuta had to take their cloth to Osogbo for dyeing while the neighbouring Ede town also supplied Abeokuta cloth dyers with indigo balls.
Though Osogbo is known as the foremost dye producer, production of indigo dye is done in many towns in southwest Nigeria, basically because the plant that produces the major ingredient used to make the dye grows in its diverse species all over even without being cultivated.
The plant, genus indigofera called elu among the people which is sometimes cultivated but most often grow wild throughout Nigeria, often comes as a plant, shrub and sometimes like a small tree. It is a flowering plant with over 750 species and out of these various species the genus indigofera tinctora is the most commonly used for dye because it produces a dark blue colour quickly.
Botanists claim that tinctoria and virtually all forms of genus indigofera grows and thrive in tropical and sub tropical regions and survives almost all elements of the weather and is cheap to come by, even in Nigeria.
Speaking with Nigerian Tribune, Chime David, a botanist said dye production is a big business that is uncelebrated and under rated in Nigeria. "Though many people do not pay attention to this business, it is very lucrative to those in that line because aside the chemicals that are added for production, the natural materials needed for dye production abound in Nigeria and it is constantly in demand.
"I do not know why many people focus more on the Adire and not what is used for its production. Every business or craft is a chain business that has many income generating angles that people can explore for economic breakthrough but unfortunately, in Nigeria, we are not that ingenious. We are fond of band wagon effect and everyone does the same business.
'See how many people are into cake making, at a time, it was bead making and hats, now almost every woman is into makeup and gele. Our problem is once someone is in a business and making little money, we all shift attention to it. We need to look inwards and stop following the trend in business. Dye production is a viable business especially with so many unemployed chemistry graduates that we have around. People should also consider the dye as a viable business option," he said.
Though many indigenous plants including Polygonum are used for dyeing by the Adire artists, the indigo dye remains the most extensively used and the most popular among the Yoruba people. This is attributed to the fact that though there is technological advancement in production of adire, the old method has not been abandoned.
Madam Siyanbola Adedigba, a dye seller who also produces campala at Bola Ige International Market reiterated while speaking to Nigerian Tribune. "It is true that there is advancement in the procedure for doing many things but for Adire, the system of dying remains the same. What is different is that we have many props to help in creating designs
"In times past, our options were limited but now, we have so many sculpted images and some use machines to create pattern but at the end, the fabric still ends inside the dye pot before production can be complete," she said.
For thousands of years, dyes were produced mainly from shrubs then later, some discovered they could get it from animals and minerals because plant leaves contain only small amount of dye and require a large quantity of leaves to prepare a functional quantity. Also, the fact that natural extraction of aniline from leaves is slow and cumbersome and dye producers were unable to meet the huge demand by using the crude local method created a necessity of looking for other options.
To meet the high demand for dye that the crude method of extracting from plants failed to meet, scientists devised other means of dye production; chemists started synthetic production of dyes in their laboratories and factories capitalized on the technological breakthrough to mass produce dye for teeming customers.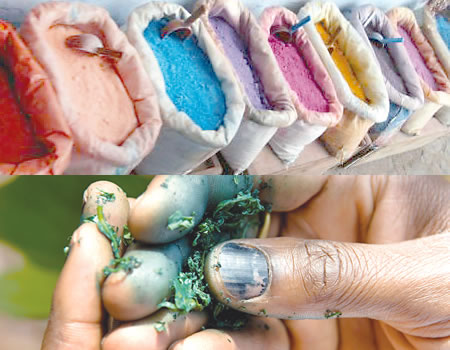 Today, production of dyes has gone beyond the local craft done in Osogbo as education, technology, civilisation and foreign influences have made it a large scale business unlike in times past when women do it in their backyards. Now, chemists use synthetic methods to produce dye; mixing alkali with various substances to produce oxindole which is synthesized to produce dye just like aniline extract from plants is synthesized for dye production.
Speaking on synthetic production of dye, a biochemist, Ajibola Obadara said the evolution has allowed the craft of dye making to become one that extends beyond clothes design and colouring. According to him, "scientific production of dye has extended the use of dyes to other functions than cloth designing.
"We have the basic dye, water-soluble anionic dyes that are used for fibres, insoluble vat dyes, mordant, acid dyes, sulphur dye, reactive dye and the most innovative form of dye which is the food dye or what is called food additives among many other classes of dye."
Also, the advanced application of technology led to production of colourants which is used as dye.  Though production of man-made dyes now serve as a threat to natural dyes, the role of traditional dyes in cloths dyeing cannot be eradicated.
And because the need for dye in its various forms continue to be on the high side, those involved in it especially bulk suppliers make money without stress while retailers also enjoy their little windfall from the system.
If dye production is lucrative, why are Nigerians especially people from the southwestern part of the country not actively involved as in the olden days? Franklin Ebosele, the Managing Director of Solid Bridge Ventures and an importer and supplier of all forms of dyes attempted an answer.
According to him, though there are dye manufacturing industries in Nigeria, most of the dyes in use are being imported into the country and sold to distributors.  "The dye business is not popular like in the ancient time though it is now more lucrative as even as importers, we make money on every consignment. Unlike some commodities that take time to sell, as we bring in consignments of dye, you already have people that will buy it.
"I think the economic situation of the country contributes majorly to why there are fewer dye factories around. The economic situation in the country does not give room for new businesses to thrive and many manufacturing countries are having issues due to lack of power and such other issues besieging all sizes of manufacturing companies.
"But even the fact that we import to sell does not stop us from making profit; this is the beauty of selling a product that is always in demand. You make profit on every investment. Though it will be less stressful if people manufacture more dyes in Nigeria because then we won't need to import and more people will get employment. Also, the industry will expand and we can export to other countries especially in West Africa as presently, most of the dyes are brought in from China and India," Ebosele told Nigerian Tribune.
He further expressed the belief that if people look around, they will get ideas about what they can invest in, adding that he finds it funny that in spite of the international recognition given Adire, people don't consider the ingredients that is used as viable for business.
"Though at present, we cannot earn foreign exchange from dye because what is produced here is not even up to the level needed for local consumption but selling dye is a sure way of making money, if you do it on a large scale and I find it very funny that people do not consider dye and other chemicals like wax and local things that the Yoruba people use for Adire eleko like somiro, beleke and others as viable business.
"We should stop complaining about unemployment. If you can't import, you can buy locally and it is sure that you will sell and make profits. Also, we have thousands of science students that graduate annually, why can't they produce dye. It doesn't have to be on a large scale. Rome was not built in a day. We should start working towards self sufficiency to make this country great," he concluded.
The director of Iya Ibeji Iswat campala store in Adire International market, Kenta, Itoku in Abeokuta also confirmed that they buy plenty of dye regularly for their production, adding that as long as their business thrives, anyone selling dye will make money. She added that they do not make dyes but said if there are many dye manufacturers in Nigeria, production will be cheaper and more people will move into adire business.
"We do not make dyes but we use it to make our clothes that we sell and some of us sell dyes but I can say that as long as our business thrives and with the international acceptance of our fabric, a dye maker or seller will always make profit. It is a business that when you do it, you can never go hungry as you are sure that people will buy what you sell.
"I will encourage people interested in dye making to go into it because when it is readily available, it will be in our favour and it will allow everyone make money. It is not only in dye sale or production; there are many aspects of Adire that is lucrative," Iya Iswat said.
A chemistry graduate, Wande Babalola also agreed that producing dye is not a procedure that is beyond the knowledge of the average chemist. "It is not that one does not understand the procedure as a graduate or that we don't think it is not viable. I for one know that it is a business that can empower me financially but the truth is starting a manufacturing industry even on a small scale is not easy in this terrain.
"If there is a scheme for entrepreneurs, many graduates will explore their knowledge but the truth is most available schemes only look for people that already have some things on ground, not starters like me. And interest on loans itself is discouraging especially when you consider issues like electricity, security and marketing. To break even is not easy, ordinary water and waste disposal is money and dye production produces a lot of waste that are hazardous to health and needs proper disposal," Wande concluded.
So like some local crafts associated with the southwest, dye production is fast becoming a thing of the past as rather than produce, people now import while many don't even consider importing it as a viable business. As a result, it continues to be another goldmine laid to waste.