49 kidnapping hotspots on SouthWest roads revealed
Report by Hakeem Gbadamosi; Yomi Ayeleso; Lekan Olabulo; Wale Akinselure and Yinka Olukoya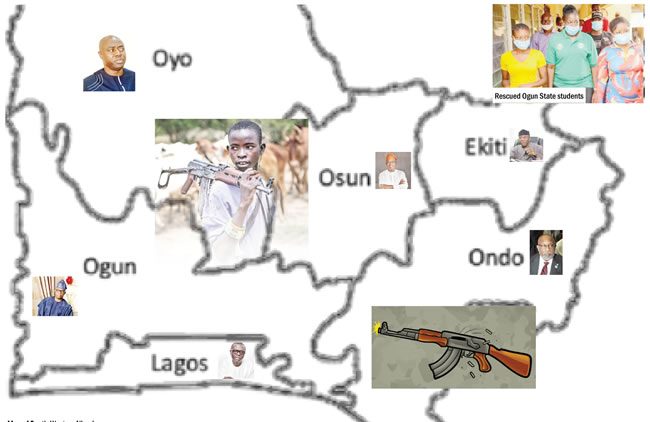 As most roads in the SouthWest, particularly roads considered as arterials that link states and major cities become increasingly dangerous owing to activities of armed bandits, Sunday Tribune investigations have identified 49 dangerous spots across the region where these criminals operate. 
Information gathered from security sources and victims has usually blamed herdsmen for most of the abduction cases on South-West roads. These criminals, according to investigations, use the hotspots to launch their attacks and then sweep their victims into the surrounding forest. 
For instance, on the Lagos-Ibadan highway, security sources, as well as drivers of commercial vehicles, listed Ogunmakin/Alapako, Saapade and Kara Long Bridge areas as perhaps the most dangerous of the spots the criminals operate from. 
"Their operation times are usually before dawn when visibility is poor and at night. 
"Commuters on that road should be very careful as it is dangerous to travel at those times," the security source explained, confirming expert advice from an elder statesman who had warned about the activities of criminals on that highway. 
There are other spots that litter the roads and communities in the South-West, according to Sunday Tribune investigations. In Ekiti, Ondo, Oyo, Ogun to Osun and Lagos, these roads have become nightmares to commuters and residents of communities adjoining them.  Read the full report here: Behold South-West Kidnapping Spots …Why Roads Users, Others Must Beware
YOU SHOULD NOT MISS THESE HEADLINES FROM NIGERIAN TRIBUNE
Cryptocurrency: Understanding The Craze, Threat
ON Friday, February 6, the Central Bank of Nigeria (CBN) rocked the boat with a circular that inadvertently highlighted how popular cryptocurrency transactions have become among Nigerians in recent years, judging by… 
ICYMI: Yoruba, Hausa Teachers Needed In US
The US Embassy and Consulate in Nigeria has announced that the services of Yoruba and Hausa teachers are needed in the United States. According to the Public Affairs Section of the US Mission Nigeria…
Controversy Over Man Who Jumped From 7th Floor Of 1004 During EFCC Raid
The police in Lagos State have begun investigations into the circumstances surrounding the alleged death of a man at 1004 Estate, Victoria Island, who allegedly jumped from the 7th floor of one of the buildings. The man was…
INEC Lists Five Challenges Ahead Of 2023 Elections
AS politicians step up horse-trading ahead of subsequent elections, the Independent National Electoral Commission (INEC) has listed five main areas of likely challenges…
After Two Years, Daddy Freeze Apologises To Bishop Oyedepo
Daddy Freeze whose real name is Ifedayo Olarinde has apologised to Bishop Oyedepo who is the presiding bishop and founder of Living Faith Church aka Winners Chapel…