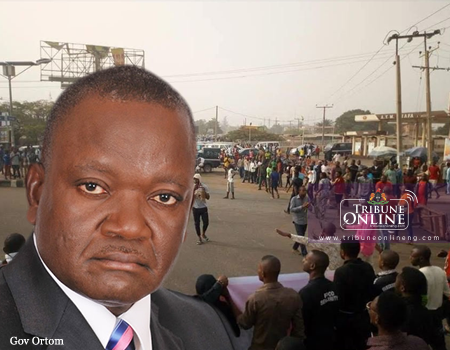 Governor Samuel Ortom of Benue State has said that the 49 people killed during a recent attack kept in the various morgue in the state would be given mass burial and three days of mourning would be observed in preparatory for the burial.
The governor who spoke at the stakeholders meeting held at government house, Makurdi yesterday said 'state government will make coffins for the dead victims of about 49 dead bodies, 39 from Guma and 10 from Logo LGAs have been deposited at various mortuaries.
He added that those bodies that were currently found and already decomposing have been ordered to be buried.
The governor while addressing the stakeholders said the recent attack has made him reconcile with the former governor of the state, Gabriel Suswam in his quest to finding a solution to the problem of herdsmen attacks on Benue people.
He further stated that he has decided to withdraw from all political activities pending when the attacks on Benue by Fulani herdsmen are over and normalcy return to every nook and cranny of the state.
The governor who stated this during the emergency stakeholders meeting held at Government House Makurdi, said that for the first time after his election in 2015, he had to pick  his phone and personally put calls across to his predecessor, Gabriel Suswam, and former Senate president David Mark to seek their inputs on how to solve this problem of herdsmen invasion of Benue communities.
"I saw this problem as a problem for all Benue sons and daughters that is beyond party line which is why l decided to put every sentiment aside, reconciled with relevant stakeholders and sit with them to brainstorm with a view to finding a lasting solution to the crisis."
"Suswam was in the system before me and he had handled this issue of Fulani before. When l called him about this meeting, he told me that he is out of the country and he told me what to do. So also David Mark who is again out of Nigeria. They are all in support of whatever decision being taken to address the killings."
"I cannot be a leader over dead people. 2019 is in God's hand. This time, there is a need for synergy, cooperation, and unity among every Benue people across party lines. Therefore, I have reconciled with them, let them join me to push this fight away from Benue," Ortom.
He appealed to all Benue sons and daughters to team up with his administration irrespective of their tribe, religion and political affiliation to bring to an end the incessant attacks on Benue communities and gruesome killings of Benue people by herdsmen.
Ortom stated that, already, additional troupes had been deployed to Benue even as the Deputy Inspector General of Police (DIG), Habila Joshak has also arrived the state with a chopper for surveillance adding that a special anti-terrorist force of the police whose operation would be beyond the shores of Benue State would be arriving the state on Saturday.
Various stakeholders who spoke at the meeting including former Senate President Ameh Ebute, Prof David Iornem, Gen Lawrence Onoja (Rtd), Chief Edward Ujege, reps of APC, LP, PDP, and host of others, called for unity and support of all to enable the state government  succeed in the onerous task of bringing the incessant attacks by herdsmen to an end.
They all advocated that governor Ortom should lead high power delegation comprises of elders and traditional rulers to president Buhari to register their grievances.