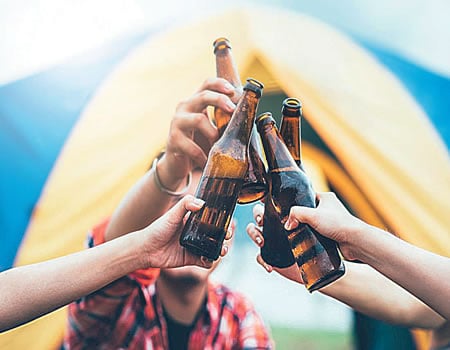 In a new study, experts have attributed 4.3 percent of all cancer seen in Nigeria to alcohol consumption.
The study, which evaluated the incidence of cancers associated with alcohol consumption, said 4.9 percent of all cancers in men and 3.9 percent of all cancers in women was due to alcohol consumption.
The commonest cancers attributable to alcohol consumption were cancers of the oral cavity and pharynx in men and cancer of the breast in women.
This first country-specific estimates ofcancers attributable to alcohol consumption published online in the 2017 August edition of the journal, Front Oncology also reported 10.3 per cent of alcohol-associated cancer cases in Nigeria.
For the study, the experts calculated the numbers of cancer cases attributable to alcohol consumption in each sex based on cancer data from two population-based cancer registries (PBCRs) in Nigeria.
Between 2012 and 2014 study period, the PBCRs reported 4,336 cancer cases of which 1,627 occurred in males, and 2,709 occurred in females.
Of these, they found a total of 1,808 cancer cases that were associated with alcohol intake, with 339 in males and 1,469 in females.
Colorectal cancer was the most common alcohol-associated cancer in males, representing 5.9 per cent of male cancers and the second most common alcohol-associated cancer in females constituting 5.4 per cent female cancers.
Breast cancer was the commonest alcohol-associated cancer reported during the study period, representing 28.1 per cent of all new cancers reported by the registries within the period. But, there was no breast cancer case attributable to alcohol consumption in males.
According to them, "Our study shows that 4.3 per cent of incident cancers in Nigeria can be prevented by avoiding alcohol consumption."
They added: "While the incidence ofcancers associated with alcohol intake is high, the proportion attributable to alcohol consumption is much lower suggesting that the number ofcancers that may be prevented by eliminating alcohol intake in this population is relatively low."
Alcohol consumption has been identified as a risk factor for many cancers but less attention has been paid to the fraction of those cancers that are attributable to alcohol consumption.
According to the World Health Organisation (WHO), in 2014, Nigeria was the fourth leading African country in alcohol consumption after South Africa, Namibia, and Gabon.
The proportion of incident cancer cases and cancer deaths attributable to alcohol consumption varies across the world. In the African region, it is estimated that 4.8 per cent of cancer cases were attributable to alcohol consumption in 2012.
The WHO Status Report on Alcohol reveals that there has been a significant steep rise in alcohol consumption in Nigeria over the past 15 years, with the increase in wine consumption, a slight increase in beer consumption, while spirit consumption has remained the same. These could have contributed to the rising incidence of colorectal cancer in this population.
ALSO READ: 21 percent of all cancers seen at UCH in children due to eye cancer