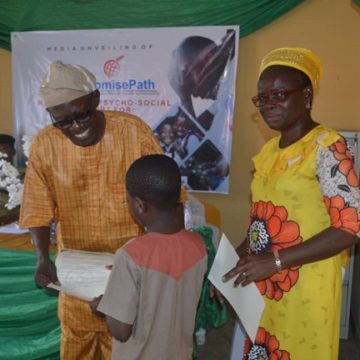 About 33 children, whose parents are incarcerated in Nigeria Correctional Centres in Kwara State have been offered educational support and mentoring.
Speaking at the launch of Promise Path Education Programme for indigent children in Ilorin, on Thursday, the chairperson of Prison Fellowship Nigeria, Kwara State chapter, Mrs Adeola Ayano, said that about N500,000 are expended on the indigent and vulnerable children every year to cater for their needs.
Mrs Ayano, who said that a sum of N12,000 was presented to each of the beneficiaries every year, added that the programme aimed at ensuring that "vulnerable children receive four essential support: education, safety, health and social and emotional resilience, all within the care of their family units."
The organization, chartered with Prison Fellowship International, also called on relevant stakeholders, corporate bodies and individuals to support the initiative with food items towards improving well being of vulnerable and inmate's children in the country.
Mrs Ayano said that the Promise Path, a mentoring and psycho-social support programme for vulnerable and at-risk children, also aimed to draw attention to the plight of more than 10million out-of-school children in Nigeria and the need for all men and women of goodwill to do something about the problem.
Also speaking, the state programme coordinator, Mrs Ajayi Adeola, said that Nigeria was reported to have the highest number of out of school children in sub-Saharan Africa with more than 10 million children of schooling age out of school.
She said that the statistics are a time bomb unless urgent steps are taken to engage the army of indigent children.
Also speaking, the state coordinator of the Yellow Ribbon Project of the organization, Mr Adeyinka Ajiboye, who spoke after a roadshow, tagged, "Help Unlock the Second Prison", organized in conjunction with the Prisoners Rehabilitation and Welfare Action (PRAWA), said that the programme was designed to create awareness on the need for society to accept back ex-offenders to their fold.
"The essence of the program is to sensitise the public on the need to accept ex-offenders back to the society and not to discriminate against them. We as a society need to show love and care towards ex-convicts.
"We need to help them realize that they can still be useful for themselves, family and the nation after abandoning their criminal activities."
In his address, the representative of the Nigeria Correctional Service (NCS), Mr Lawal Folorunsho, said that the welfare department of the NCS has limited resources to cater for children and families of inmates, adding that roles of the organization came in handy and important at assisting children of inmates in the state.
He commended the organization for a job well done, urging them to sustain the tempo.
YOU SHOULD NOT MISS THESE HEADLINES FROM NIGERIAN TRIBUNE
33 children of inmates get educational support in Kwara
Buhari Urges MTN For Quality Service, Downward Price Review In Cost Of Data, Other Services
President Muhammadu Buhari Friday at State House Abuja urged the MTN Group to make the available top-of-the-range service to its Nigerian subscribers…    33 children of inmates get educational support in Kwara