3 truck loads of okada riders from Lagos scare Adamawa residents
•Police say 86 motorcycles, 186 men arrived Mubi from Lagos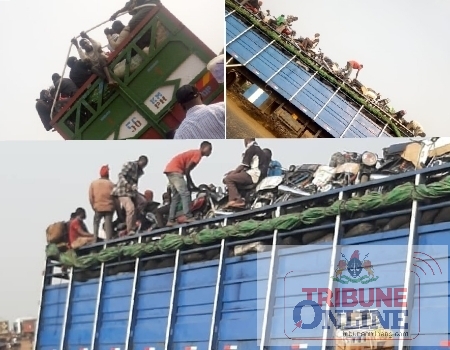 THE arrival of a horde of okada riders in three trucks from Lagos caused tension in Maraban Mubi in Adamawa State during the week.
The men left Lagos for their home state following a ban on okada business by the Lagos State government some days ago.
Eyewitnesses said apprehension enveloped residents at a popular junction leading to Mubi, Maiha, Michika and Madagali when the riders were denied further movement to their respective communities by the military at a checkpoint.
It was further gathered that over the past few days, Adamawa State has been seeing a large number of okada riders trooping back to the state capital, Yola, and various local governments in the state from Lagos in search of alternative means of living.
One of the returnees told Saturday Tribune that on their arrival at about 11.00 p.m. on Wednesday, military men stopped them and denied them access to their various destinations.
"When we reached here, the military stopped us and we didn't know their reason for doing that. We arrived at 11.00 p.m. and now it is 11.00 a.m. on Thursday and there is no telling when we will be released," he said.
When contacted, the state Police Public Relations Officer, DSP Suleiman Yahaya Ngoruje, told Saturday Tribune that the three trailer loads of the motorcycle riders scared the residents of the state and soldiers who were on an operation in the area alerted the police.
Ngoruje disclosed that about 86 motorcycles and 186 people were screened by the police and were warned to be aware of the existence of a law banning the private use of motorcycles and for commercial purposes.
He, however, said the returnee Lagos okada operators who are mostly indigenes of the Northern Senatorial zone of the state had since been allowed to go to their various towns and villages after a thorough investigation was carried out on them by the command.
Ngoruje further confirmed that many of them were identified by their blood relations and credible people in the state.
Concerned residents of the state confided in Saturday Tribune that they were scared of the jobless youths from Lagos who fall within the age bracket of 25-35 and who had returned home to be doing nothing and who could be a serious security threat to the state and the people.