3 feared dead, residents lament as rain wreaks havoc in Niger
THREE people were feared dead as no fewer than seven houses were washed away by flood disaster in Bosso and Chanchaga local government areas of Niger State, on Saturday, following a heavy rain which began around 4:30 a.m. and stopped at about 10:00 a.m,  in parts of the two local government councils.
Also displaced were about 500 people whose houses were destroyed while about 40 commercial outlets, including shops belonging to artisans, were not spared.
Sunday Tribune gathered that the flood destroyed other residential buildings as well as led to the collapse of their wall fences, just as it washed away farmlands.
BREAKING: Varsity workers begin strike Monday
Some of the affected victims, while lamenting over the incident, said the early morning rain was responsible for the flooding which also destroyed the MYPA School bridge in Bosso Local Government Area of the state and swept away the Mula bridge in Dutsen Kura Hausa Area of the state capital.
Also speaking during an on-the-spot assessment of the situation in the affected areas,  acting governor of the state, Alhaji Muhammad Ahmed Ketso, disclosed that the state government had directed the Director General, Niger State Emergency Management Agency (NSEMA), Malam Ahmed Inga, to immediately take inventory of the losses and provide relief materials to the victims.
Speaking on behalf of the Dutsen Kura Hausa victims, Sanusi Mohammed, a businessman, said "three persons were swept away in the flood and must have died by now."
Another victim, Zubairu Abdullahi, disclosed that his cattle, sheep, goats and fish ponds have all been swept away and his house destroyed by the flood.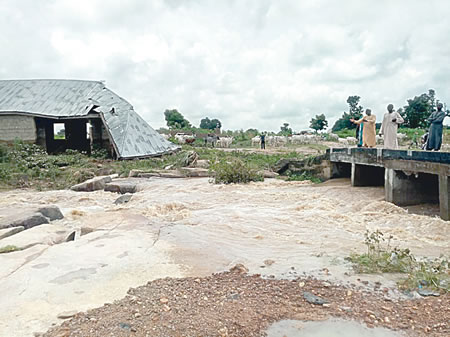 Speaking also, the Ward Head of Dushrn Kura Gwari (Mai Anguwa), Malam Inuwa Bawa Tukura, said: "I have witnessed four floods now; the only solution for this flooding is the construction of drainage system from the Bosso campus of the Federal University of Technology (FUT), Minna down to Minna-Bida road."
Another victim, Hadiza Rabiu of Shanu village in Bosso Local Government Area of the state,  said she lost N40,000 cash, foodstuff and personal effects to the flood.
According to the mother of three children, "we were fast asleep when the flood entered our room. I started crying for help for my neighbours to assist in saving me and my children.
"The flood destroyed everything, our house collapsed and everything we have, including the money I kept under my pillow, was also washed away.
Malam Abubakar Mohammed, a resident of Mypa Junction in Bosso Local Government Area, told the News Agency of Nigeria (NAN) that he saw a woman in the flood who was calling for help.
"At around 4:30 a.m. when we started seeing the flood, I came outside and I saw a woman being carried away by the flood, calling for help, but unfortunately I couldn't help her because of the volume of the water.
"I looked across and I noticed that the bridge on Okada to Mypa road had collapsed. When I came close, I saw what looked like a crocodile, maybe it was brought from Bosso dam," he said.
Similarly, Malam Adamu Rijau, a resident of Bosso Estate, who noted that most of the affected houses in the area were built on waterways, called on government to step in and stop all land allocation on waterways.
Also, Alhaji Inuwa Bawa, Ward Head of Dutsen Kura Hausa, disclosed that seven houses were destroyed in the area.
He called on the government to intervene and construct concrete drainage in the area to avoid a reccurrence.