22 Ibadan torture centre victims hospitalized as Oyo marks centre for demolition
• We'll prosecute those found culpable - Makinde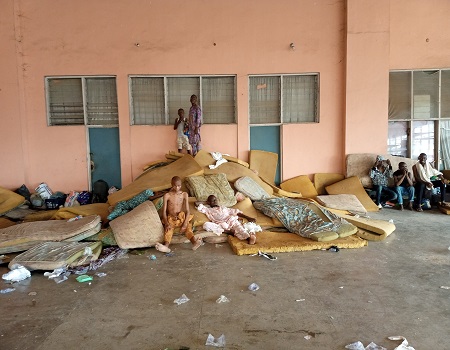 The Oyo state government has marked for demolition the alleged torture centre cum detention camp discovered in Ibadan, the state capital, on Monday.
This is Governor Seyi Makinde said the state government will prosecute those found culpable in running an illegal detention camp.
Speaking on a visit to both the Oloore detention camp which had demolition notices pasted on it, Makinde announced that 22 out of the rescued victims found extremely ill were currently being attended to at the Adeoyo State Hospital, Ibadan.
While describing as condemnable the alleged torture of humans under the guise of receiving religious indoctrination or correcting those with mental health issues, Makinde promised that the state government will get to the root of the matter.
He however assured that once the security agents obtained statements from the victims, as part of its ongoing investigation, the state government will not hesitate to ensure that those found innocent are reunited with their families.
ALSO READ: Makinde heads Ibadan urban flood project
"What we have seen is condemnable. This should not be happening in a modern environment. You can't use the mosque as a façade to perpetrate this kind of evil. We have marked it for demolition.
"But this kind of thing couldn't have been going on without the people in the houses nearby not knowing about it. They should have reported this to the authorities and we will have unravelled this a long time ago.
"We want to encourage our people, parents that if you need to rehabilitate members of your family that are not behaving well, you have government institutions that can do that, and we are trying to rehabilitate those places for the people of Oyo state.
"Government has correctional facilities and you should patronize those ones. If the owners of the place have no case to answer, they will be released.
"We will ensure we get this place away from those people doing all of these things, within the ambit of the law. All those involved will be prosecuted to the full extent of our law.
Interacting with parents of some the victims who were at the temporary camp located at Sanyo area of Ibadan, Makinde questioned why the parents failed to patronize state government correctional facilities if they thought their wards or children had mental health challenges.
Makinde's questioning came on the heels of one of the parents of the victims who said he paid the Oloore centre for them to train his children to be versed about Islam and that he didn't see his children tied down whenever he visited.
One of the housekeepers had also told Makinde that several of the victims were brought to the centre mentally unstable and as high consumers of hard drugs for them to be corrected to lead responsible lives.