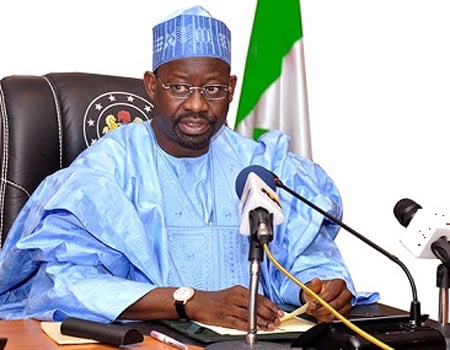 As aspirations for political offices for 2019 hots up, a youth group known as North East Youth Enlightenment of People on Good Governance (NEYEPGG) has called on the Governor of Gombe State, Ibrahim Hassan Dankwambo to vie for the presidency of the country come 2019 so that he will replicate his transformation of Gombe state to the country.
Addressing newsmen in Bauchi Sunday,  the National Coordinator of the Group, Adamu Hassan, after a meeting with 20 Local Government Areas  Coordinators, said that the presidency being the most important office in the country should be occupied by the best brain with uprightness such as Ibrahim Dankwambo who had done it in the civil service, politics and as a Governor of Gombe state.
According to him, the Group had identified those qualities in Ibrahim Dankwambo who had over the years remained the pillar of the civil service, political icon and the Governor who has transformed his State to a mega-state.
ALSO READ:Gombe inaugurates new board to boost IGR
The Coordinator who was represented by his Secretary, Engineer Ayuba Karofi said  that, "North East is backwardly ravaged with poverty and lack good representative at the center that is why we are far behind in the country and the insecurity that devastated the 6 states of Bauchi, Adamawa, Borno, Gombe, Taraba and Yobe of the region, that is why we are calling on Ibrahim Dankwambo to come and salvage the region and the country at large".
He added that "Dankwambo is a technocrat from the North East that is capable of turning around this country into a better place for all the citizens."
"As a youth organization, we have undergone a process of choosing Ibrahim Dankwambo as the preferred presidential candidate from the North East Sub-Region through detailed and rigorous manner. adding that the North East has never produced a president, so this time around we choose Governor Ibrahim Dankwambo to be the next president come 2019", Adamu Hassan declared.
Also Speaking, the Women Leader of the Group, Hajiya Halima Abdullahi urged the Coordinators to go and sensitize the general public on the need to acquired  voters card that is ongoing.
She said that "without a voters card all our effort to bring a selfless, experience and  hardworking person to rule this country would be in vain".