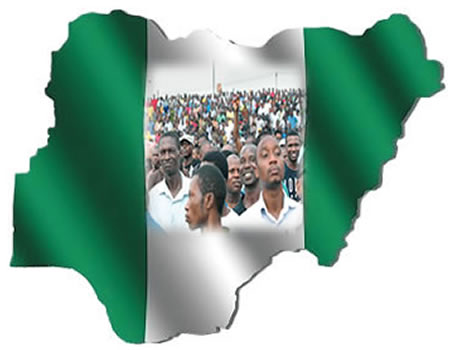 Thirty-nine political parties have joined the main opposition, Peoples Democratic Party (PDP) to sign a Memorandum of Understanding (MoU) towards presenting a single presidential candidate to oust President Muhammadu Buhari from power in next year's election.
The plan for the signing of the MoU had been exclusively reported by Nigerian Tribune, on Monday.
Meeting at a crowded Yar'Adua Centre, Abuja, they have decided to work under the name Coalition of United Political Parties (CUPP) for the emergence of a single presidential candidate under a National Unity Government.
Reading a communique after the endorsement of the MoU, Chief Tom Ikimi, said the objective was to vote out the government of the All Progressive Congress (APC) and rebuild and redirect the nation's economy and security.
The coalition agreed to zone all political offices to the six geopolitical zones of the country with the membership of the coalition directed to vote for only its candidates across all levels of elections.
CUPP agreed to ensure the advancement of the common interest of the group, as well as inclusiveness in the administration of the party affairs just at it, said its manifesto will be a covenant between it and the Nigerian people.
All 39 political party chairmen signed the MoU after it was read by Ikimi.
National Chairman of the PDP, Prince Uche Secondus, described the ceremony as a landmark event geared towards the rescue to the nation.
He said: "We have all witnessed all forms of intimidation aimed at suffocating democracy in our land, frame-ups, arrests and total break down of law and order in some areas like Zamfara state where a Governor had to relinquish his chief Security officer status.
"Just last week, the APC conquest regime came up with Executive Order which all political watchers including civil society groups likened to Decree 2 of the military era.
"We know why they are doing this on the eve of a general election because they know the people have turned their back on them but they want to retain power at all cost including cowing us down.
"But we cannot be cowed. If our heroes past had been cowed down by these historic events I just highlighted above we would not have democracy or a nation today.
"We must stand up for the rule of law to prevail or posterity would judge us harshly.
"Our leaders were fearless and united and they rescued this country from draconian regimes in the past.
"By what we are doing today, fear has taken flight and spirit of God has taken over. We must stand up to defend our people.
"I, therefore, call on all of us to be strong, steadfast and courageous.  Let's chase out APC in our lives and form a National Government that will bring succour to our people.
"Let us be firm in our decisions anticipating that our enemies will come up with all form of intrigues and strategies to rig election but we call on the international community to watch happenings in our polity with an eagle eye to save democracy in our country."
Chairman of the Reformed APC, Buba Galadima, said the coalition was an answer to the question about whether there exists in Nigeria people of courage and integrity " to face the monster."
He said if he were an adviser to President Buhari he would have advised him not to seek re-election, alerting that the APC has made plans to use public money for the coming election after accusing PDP of doing the same.
Galadima said:  "My presence alone here signifies a lot.  I'm highly delighted and elated by the presence of the cream de la cream of the Nigerian society seated here today.
ALSO READ: Anglican Bishop to Buhari: Address indiscriminate killings in the country.
"What we are about to do will send shivers not only to those on the other side of the coin but to the entire world. We are witnesses a significant event. Most diplomats and leaders of other countries of the world keep on wondering whether there are men and women of courage and integrity in this country that can face the monster.
"This significant event that we will be witnessing here very soon is the answer to the outside world and to Nigerians.
"Let me say since we made a declaration of the formation of the Reformed APC, we have received unprecedented messages of support, solidarity from all over the world and I am confident that should we put our acts together, should we tag together, if we are fair to ourselves, do things transparently and bring up one man or woman, we will save this country, we will provide a future for our children and grandchildren.
"But let me say before I conclude that this is not going to be a tea party, that the man we will be facing is a military general
But we know him and you that I know him
"If I were him, if I were his adviser, I will advise him not to attempt to contest I have my reasons. If what I know, of what I have access to others know, I assure you that General Buhari not only will lose the election but he will lose his deposit
"My co-chairmen, because from the day we announced the formation of the R-APC, a lot of people of people received threats, a lot of people received gratifications, a lot of people received pressure from unsolicited quarters to persuade them to back out
"We are ready, prepared to take on this fight despite any deprivation, intimidation, even torture because this country belongs to all of us.
We must together fight for this our right
"For my colleagues co-chairmen who are doing the sign the memorandum today, for some of them that will be looking for money, we have provided an envelope for them to make money because already they are thinking of setting aside public money which they accused others of using during elections for this purpose.
"They can use the big stick. You do know a desperate person can do anything. He can kill if he has powers, he can arrest detain. Whichever one they choose to do, we are prepared to lay down our lives for the sake of our country."
In his remark, Chairman of African Democratic Congress (ADC) Prince Olagunsoye Oyinlola, congratulated the parties for coming together.
He said coalition which gave birth to APC had failed. He said that the disappointment was a wake-up call.
ALSO READ: 2019: Coalition of 36 political parties set to battle APC govt
He added: "I congratulate all of us for what is being achieved here today. A Memorandum of Understanding among more than 40 political parties in defence of democracy and its ideals is unprecedented in this country. It is a watershed in the quest to redirect the affairs of Nigeria.
"We all know that these are not the best of times for our country. The past three years have seen the people impoverished to the extent that the Brooklyn institute recently crowned Nigeria as the Poverty Capital of the world. Insecurity has become the new normal while the government is lost and continues to pass the buck in a most ridiculously unfortunate manner.
"When things like this happen, those of us who are the elite are hardly affected. Those who bear the brunt of misrule and its consequences are the helpless, ordinary people. Ironically, it is we the elite the same people look up to save them. That is why I see this initiative at rescuing our nation as an assignment from God which we must all carry out with all seriousness, honesty of purpose and patriotic commitment.
"As contained in the MOU, the Nigerian people saw the coming together of some political parties in the build-up to the 2015 elections. They had very high hopes that the vehicle called the All Progressives Congress would take them to the promised land. Regrettably, however, events of the past three years have shown that the hopes of the people in that arrangement were misplaced.
The APC failed – and tragically too. That disappointment is a wake-up call for us to do things differently now. And I am happy that from the very wordings of this MOU we are signing here today, the worst of cynics and critics would see clearly a determined resolve on our part to make Nigeria work.
"We are all here endorsing a commitment to working together in a CUPP to replace the present APC Federal Government with a new and acceptable National Unity Government in 2019.
"Beyond enthroning a new government, a key content of this agreement is a commitment to restructuring Nigeria into a true working and workable Federation.
"I plead that we respect the spirit and letter of this agreement in the overall interest of our nation and people. This coalition, I want to warn, is, to me, the last chance for us to rescue Nigeria.
"The patience of the long-suffering Nigerian people has been tasked and stretched to the very limit. I, therefore, plead that in conduct and comments, we must see that we give effects to what we have just endorsed.
"I have the firm belief that the spirit of a new Nigeria has just been born here today. And I congratulate all of us for making ourselves available as midwives of this dawn of a new era. We must not, however, rest until the set goals are achieved. It is only then we can look ourselves in the eye and say we have done well as leaders of our people and of our individual political parties."
In his remark, Chairman of the Social Democratic Party (SDP), Chief Olu Falae, said the elders would monitor the implementation of the coalition MoU as they were more interested in the wellbeing of the country.
Former Chairman of the new PDP, Abubakar Baraje, apologised on behalf of his group for going "astray," saying that having realized their mistakes, they decided to rush back home.
He expressed gratitude that the PDP has received them back to their home.