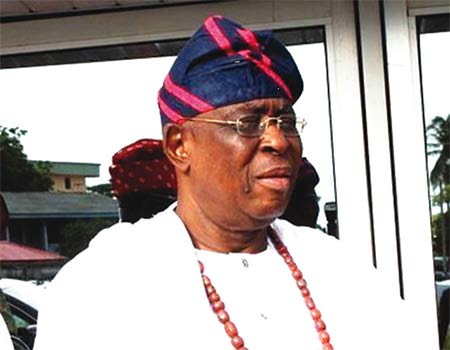 The leaders of Ogun West Senatorial District, under the umbrella of Ogun West Elders' Council, on Thursday, lampooned the former governor of the state, Chief Olusegun Osoba, over his statement that the 2019 governorship has not been zoned by the ruling All Progressives Congress (APC).
They described the statement credited to him (Osoba) while addressing party faithful at his residence, in Abeokuta, sometimes in August as "obnoxious, outlandish and distasteful."
Addressing a news conference at the Nigeria Union of Journalists (NUJ) Secretariat, Abeokuta, the group chairman, Alhaji Mohammed Olagbaye, alleged that the former governor used the people of Ogun West to achieve his governorship ambition in 1992 and allegedly "dumped" them.
Olagbaye described Osoba as a "culprit" for using the people of the senatorial district as pawn in the state's power politics.
The leaders cited different instances whereby the former governor had allegedlly betrayed their trust in him, over the quest to produce a governor from the zone.
"For Chief Osoba to say what he was widely quoted as saying, which he has not denied till now, shows he has not changed his attitude towards Ogun West. And when he talked about 'party', one wonders which party he was talking about: APC or SDP? By his latest statement, ir shows that Chief Osoba is still anti-Amosun and anti -Ogun West," stated the chairman.
They appreciated former president Olusegun Obasanjo and Governor Ibikunle Amosun for supporting the cause of the senatorial district in producing a governor in the 43 years history of the state.
The leaders equally appealed to all political parties to field their candidates from Ogun West in the spirit of fairness and justice.
Olagbaye said, "We know that Ogun State is reputed for being populated by civilized people. A civilized person, we also know, is one with passion for the disadvantaged. Ogun State should behave as such come 2019.
"It will surely be in the best interest of the the advantaged pilliars of the state to yield and concede the governorship to Ogun West in 2019. That concession in 1999 worked quite well for Nigeria.
"The implication of this is that Ogun State will justify its appelation as the Gateway State if all political parties rise up to the occasion by fielding their candidates from Ogun West. That is our clarion call- our plea.
"That is why we highly commend the father of modern Nigera and former President of the Federal Republic of Nigeria, Chief Olusegun Obasanjo, concernong where the gubernatorial pendulum in the state should swing to come 2019.
"So, also is the governor and leader of the ruling APC in Ogun State, Senator Ibikunle Amosun, for pronouncing emphatically that he would hand over power to a candidate from Ogin West, come 2019. We doff our hats for him.
"But the ambivalent statement credited to a national leader of APC and former governor of Ogun State, Chief Olusegun Osoba, to say the least, is outlandish and distasteful."