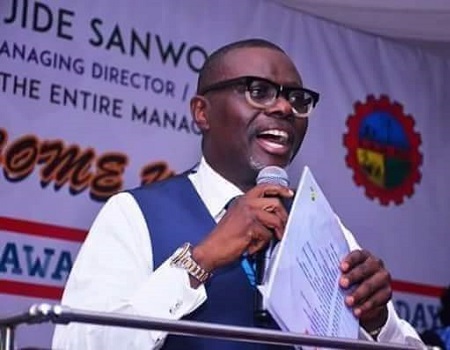 GOVERNORSHIP aspirant on the platform of Lagos State chapter of All Progressives Congress (APC), Mr Babajide Olusola Sanwoolu, on Friday promised to run an all-inclusive and participatory government if elected as next governor of the state, asserting that he would not be governor of Lagos Island or Lagos Central but the governor of entire Lagos.
Sanwoolu, who would be contesting the party primaries against the incumbent, Governor Akinwunmi Ambode, and another aspirant, Dr Femi Hamsat, who is former commissioner for works, said this at Ikeja while fielding questions from journalists preparatory to a formal declaration of ambition on Sunday at Ikeja Police College.
The governorship aspirant, who is considered to enjoy the full backing of the National Leader of APC, Asiwaju Bola Ahmed Tinubu, while acknowledging that running a good government would bring its own challenges, assuring that he fully prepared and would put together a team that would make government more participatory.
ALSO READ: Buhari replaces Seiyefa, names Bichi new DSS DG 
"To say that it is not going to be a tough challenge, it certainly will, I have faced lots of difficult things and I know that I get inspired with challenges because challenges bring out opportunities.
"I am not going to tell myself that it is going to be a tea party but we are going to roll up our sleeves. We are going to put up a team that is visionary, that will have the interest of the people at heart, that will keep an open door policy, that will listen very well, they will talk less and listen the more. That is what governance is," he said.
This was just as he said failure of leadership is not occasioned by its not listening but in not taking action, adding, "They say leadership fails because people don't listen, but leadership fails because it fails to take action."
He dismissed the suggestion that the APC Nation Leader, Tinubu, could ask him to step down the race, saying that he was a Democrat who was set to allow the choice of the people to emerge at the party's direct primary scheduled to hold at the end of the month.
"Your question is if my national leader asks me to back down, what will I do? You see, I really don't know which side of the divide you want us to stay.
"Sometimes, people will this man (Tinubu) is imposing and that he is not allowing aspirants to come out, that there is no internal democracy but this man (Tinubu) is a Democrat, he will allow democracy to rule and thrive," he said.
According to Sanwoolu, who said as real Lagosian he has what it takes to govern Lagos and make it better, based on his private and public experiences spanning over three decades, his aspiration to become the next governor of Lagos has nothing to do with an individual, describing the "movement" the party was championing in the state and led by Tinubu as participatory democracy.
"My aspiration has nothing to do with an individual, my national leader is my national leader he is our national leader, his passion is about Nigeria and not Lagos alone. The movement we have started is participatory democracy and so, there is no basis for it.
"He (Tinubu) being a Democrat, will allow the process to go on without any rancour. On September 25, by the grace of God, the entire APC delegate will vote for Babajide Sanwoolu as the governorship candidate to represent them in the 2019 general elections," Sanwoolu assured.
Speaking on the massive push that his ambition is enjoying from Mandate Group, a group within the APC, Sanwoolu said: "Mandate is not a political party, it is not only Mandate that we are pushing, it is assumed that you have to come out from a particular house, territory."
"I will not be a governor for Lagos Island or Lagos Central, I will be governor for entire Lagos State. We will ensure we have a participatory government, we will ensure that we listen to you so that you are included in the things we want to do differently for the people," he declared.