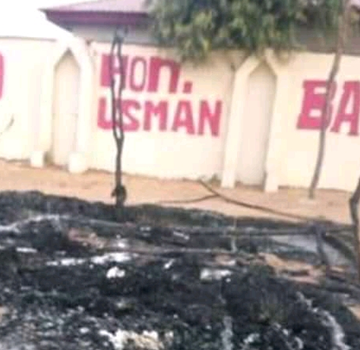 AS Nigerians prepare for the 2019 general elections with the presidential election coming up this Saturday, Gombe State chapter of the main opposition party, Peoples Democratic Party (PDP) has condemned in the strongest terms the alleged attack on its members and vandalisation of its billboards last Saturday, during the APC's gubernatorial campaign tour to Nafada LGA of the state by thugs believed to be from the ruling All Progressives Congress (APC) which is in opposition in the state.
The party which condemned the attack in a statement signed and issued by the Chairman, Media and Publicity Committee of the 2019 General Elections, Dahiru Hassan Kera, stated that, "afraid of defeat in the forthcoming general elections, the APC has resorted to vandalisation, intimidation and harassment of PDP loyalists in the state," terming the action as an act of criminality, violence and harassment that has the endorsement of APC leadership.
Hassan Kera further stated that while on a campaign tour last Saturday, supporters of their party (PDP) were attacked in Nafada, which also led to the killing of one person in Funakaye while many have sustained various degrees of injuries.
ALSO READ: Elections: Disquiet in INEC over recruitment ad hoc staff
He alleged that the APC in a desperate attempt to win the forthcoming elections while being out of power and in the opposition in the state was using illegal, arm-twisting tricks and mechanisms to harass and torment innocents citizens.
"Vandals and hooligans associated with APC are now intimidating and harassing our loyalist which is in violation of the peace accord earlier signed by all the political parties in the state. There was the same kind of rampage when President Buhari visits Gombe for campaigns," Hassan Kera stated.
While demanding that all those that perpetrated the act be arrested by the security agencies without any delay so that the harassment could stop, the party also threaten to withdraw from the peace accord if no action is taking by the security agencies in tackling the ugly menace, stressing that, "Nobody has the monopoly of violence."