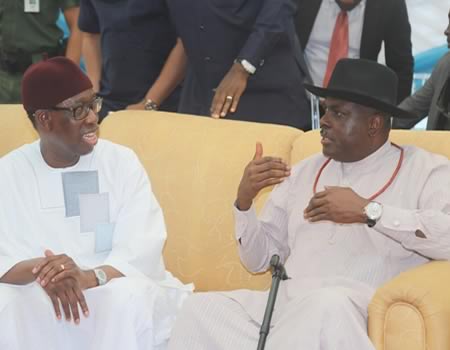 Ahead of the People's Democratic Party (PDP) primaries, former governor of Delta State, Chief James Ibori, has advised aspirants jostling for various elective offices in the state to go and seek the support of delegates, saying he won't be able to help them.
Ibori made the statement at the 70th birthday celebration of Senator Patrick Osakwe and the grand reception in his (Ibori) honour on Saturday at Ugiliamai, Ndokwa West Local Government Area of the state.
"We must understand that Delta is a very complex state, we must learn to subsume our personal interest for the good of the state.
"Those who are vying for political offices should go and look for delegates and get their support because Chief Ibori and the governor (Dr Okowa) cannot help you get your people to support you to enable you to win," Ibori, who clocked 60 years a week ago, quipped.
He thanked his co-celebrant, Senator Osakwe for his contributions to the PDP family from its inception.
Meanwhile, the Delta State governor, Dr Ifeanyi Okowa has described the PDP family in the state as one large family strengthened by brotherly love where an individual's ambition cannot override the collective interest.
He emphasised that members of PDP believe in the supremacy of the party where collective interest supersedes personal interest.
"When we continue to partner together, we add value to this family, the PDP family; the family means well for our state," he noted while admonishing politicians including immediate past Governor Emmanuel Uduaghan who were all seated at the function.
Governor Okowa described Senator Osakwe as a ranking Senator who stepped down for him to become a Senator when it mattered and has contributed to the development of the country.
"I thank Senator Osakwe for accepting me as his son and stepping down for me during the Senatorial race.
"I thank him (Senator Osakwe) and our former Deputy Governor, Chief Benjamin Elue for their humility, for being role models for us," Okowa enthused.
Dr Uduaghan, on his part, described Senator Osakwe as a man who has been active in Nigeria's economic scene before his sojourn into politics where, he averred, he has effectively represented his people.
Chairman of the occasion, Chief Benjamin Elue congratulated Senator Osakwe for attaining the age 70 and thereby joining the septuagenarian club.