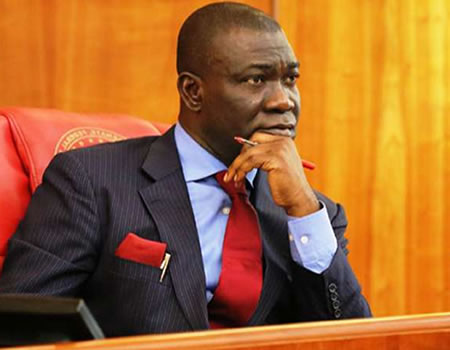 The Deputy President of the Senate, Senator Ekweremadu, has warned against any plan to muzzle the opposition ahead of the 2019 election, adding that multiparty and opposition politics remained the beauty of democracy.
Ekewremadu, in a statement by his Media Adviser, Uche Anichukwu, also confirmed supporting the incumbent ruling All Progressives Congress
(APC) with the sum of N5 million at its formative stage in 2014.
The statement quoted him as saying that if the former President Goodluck Jonathan were to be repressive, the APC would not have seen the light of day.
The statement also indicated that the Deputy Senate President had accepted to run for the Enugu West Senatorial District in the 2019 general elections.
He was quoted as making the declaration when his constituents of Enugu West stormed his residence on Sunday to present him with the PDP nomination form, which the statement said was purchased Ekweremadu to enable him to return to the Senate in 2019.
ALSO READ: Primaries: Anxiety in APC, PDP, others
The statement quoted him as saying: "The beauty of democracy is the enlargement of the political space in which everybody is free to participate, bring and exchange ideas, and disagree in order to agree. But we are not seeing that today.
"I will tell you something that is going to shock you. In 2014, when APC started, they wanted to register members in Enugu State. Senator Chris Ngige called me and said they were having a problem registering members in Enugu State, and asked if I help them. I was the Deputy President of the Senate in the PDP, but I gave them N5 million. Ngige is still my witness.
"During that 2015 election, one lady came to me and said she wanted to run against me on the platform of the All Progressives Grand Alliance (APGA) and she needed my support. I said okay, I will start by paying for your nomination form because I believe every party must be given a chance. She lost the election, but I later helped to secure a political position for her.
"Just yesterday (Saturday), I also got a call from a man who introduced himself as an engineer from Achi, but lives in Jigawa. He later came with his family to tell me that he wanted to run for the Senate in Enugu West. I congratulated him and offered to help purchase his nomination form. But he told me he had already bought his form. He was surprised when I offered to buy a form for him. As far as I am concerned, all power belongs to God.
"We should not try to reduce the political space. We must allow people to participate. You can disagree with people, but you must not try to harass them with security agencies and the rest. That is bringing us a lot of embarrassment in the international community."
He added:  "A few weeks ago, I reflected on my past engagements with the people of Enugu West and I was satisfied that, by the grace of God, we were able to make so many improvements in the lives of our people.
"I also tried to reflect on my present political trials, persecution and harassment, but I said it could only happen because God allowed it. I believe that God will take care of it and we will triumph.
"One option is to come back to you in Enugu and run my foundation, which will give me an opportunity to mentor young men and women in leadership. The second is probably to go to a university and take a fulltime academic job and also try to mentor young people in school.
"But my dilemma there is: what happens to all of you that have been my partners in the politics? I concluded that we would collectively decide the next move.
"Today, you have spoken, and since you are my employers, I have no choice than to humbly accept to run for the Senate again."