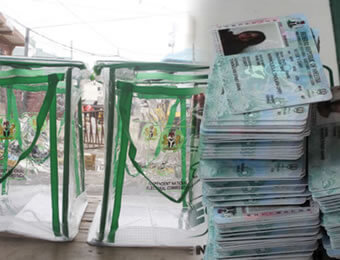 AHEAD of 2019 general elections, the Catholic Bishop of Osogbo Diocese, Most Reverend Akin Oyejola on Sunday cautioned Nigerians against selling their voters' cards to desperate politicians, saying that is the only weapon they possess to elect leaders of their choice in the polls.
He said the electorate should resist the temptations from some desperate politicians, who may entice them with money to buy over their Permanent Voters Cards (PVC) to perpetrate electoral fraud in the 2019 general elections.
Oyejola, who spoke while addressing a multitude of Nigerians, who converged on Oke Maria Mountain, Otan Ayegbaju in Boluwaduro local government area of Osun State for the annual pilgrimage said: "don't sell your voter's card, it is your power to vote a right candidate during the election."
ALSO READ: 600,000 PVCs yet to be collected in Oyo ―REC
Describing sales of voters card as a mortal sin against God and humanity, the clergy maintained that electoral malpractice would bring hardship and poverty to the society, stressing that politicians would soon be lurking around to buy voter's cards as a tool to elect ungodly candidates, who will squander the socio-economic resources of the country.
According to Oyejola, "we encourage you to go and register in order to enable you to perform your civic responsibilities, cast your votes for candidates of your choice, but don't sell your voter's cards, if you do that, it is a mortal sin that could send the owners to hell".
While welcoming former deputy governor of Osun State, Senator Iyiola Omisore, senator, representing Osun East Senatorial District, Senator Babajide Omoworare and other politicians, who thronged the prayer mountain, the clergy tasked them to be good ambassadors of the church in their political activities and desist from compromising their Catholic faith in the pursuit of political ambitions.
Oyejola averred that "I want to welcome Senator Iyiola Omisore, Senator Babajide Omoworare and other Catholics who are politicians on this mountain. I pray that God grant your heart desires, but please represent us well in politics, don't compromise your faith. I know that politics is a risk, but Christianity itself is a risk and you must discipline yourself to succeed in your political careers. Don't embarrass the church, let your Catholic faith guide you in your political careers, as we shall also continue to pray for you".