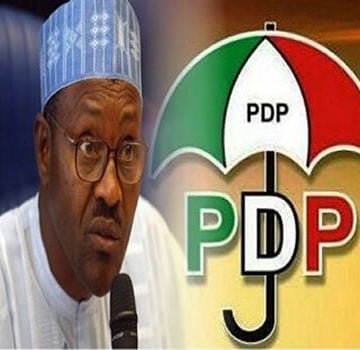 THE Peoples Democratic Party (PDP) has raised an alarm over President Muhammadu Buhari and the All Progressive Congress (APC) plan to garnishee accounts belonging to the party and its critical stakeholders, perceived to be against the President's re-election bid.
It alleged in a statement issued by Kola Ologbondiyan, its National Publicity Secretary in Abuja that they plan to do so by procuring frivolous court orders from compromised judicial officers.
The PDP said it is already aware of how instructions have been given to certain agencies of government to trail and throw up fabrications in order to create an impression of financial infractions around the said accounts.
The party added: "Already, accounts belonging to critical stakeholders are being frisked with a view to have them liquidated ahead of the general elections.
"It is clear that the only reason for this is to ensure that our party and candidates are deprived of access to funds for campaigns, but the APC and the Buhari Presidency fail to realise that the 2019 election is now a battle between them and Nigerians, who are the bastion of the PDP.
ALSO READ: BREAKING: Customs seize truckload of weapons, codeine, Tramadol in Imo
"Nigerians have since taken over the saddle for the quest to rid the nation of this incompetent, vicious and vengeful administration, for which they are now freely making contributions and sacrifices. They have collectively resolved to vote out President Buhari and not even the APC's on-going vote-buying strategy and intimidation can scuttle that resolve."