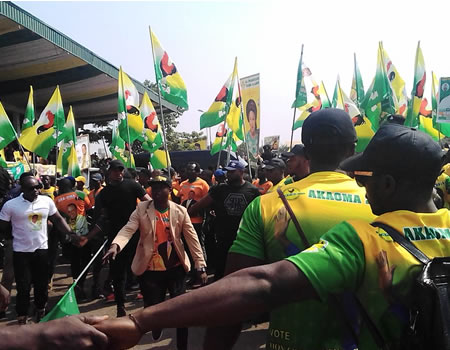 The All Progressives Grand Alliance (APGA) presidential candidate General John Gbor yesterday in Awka listed education, agriculture. youth empowerment and women empowerment as priority areas of his administration if elected into power.
Gbor spoke at Ekwueme Square Awka while flagging off his presidential campaign. He said that his administration would raise Nigeria education budget from seven to 26 per cent, fast-track the quest for all-round development of the country and open doors for various segments of the nation to fully develop.
He also said that APGA government under him would equally liberate the country from the hand of hired killers.
He said: "We will liberate Nigeria from the hands of killers, rescue the youths and women from sufferings and set the country on the path of prosperity'', he said.
He, however, advised the supporters of the party to form a united front to enable the party to achieve her drive for victory during next general elections, saying" as Biblical David with little stone, I am leading APGA  to Aso Rock in 2019''.
In his own speech Governor Willie Obiano of Anambra, urged APGA faithful to support all the party's candidates across the nation, noting that it was possible to replica the victory the party recorded during the 2017 governorship election in Anambra in 2019.
Also, National Chairman of the party Chief Victor Oye, said the party was presenting two capable men as president and vice presidential candidates to the nation ahead of 2019 polls.
Oye said if Gbor and his vice Jerry Chukwueke are elected, that the duo had all it takes to transform the country to a great nation and as well return it to God.
A House of Representative Candidate for Anambra East/West Federal Constituency under the party, Hon. Chinedu Obidigwe who spoke on behalf of other Legislative candidates said supporting APGA would enable Nigeria to achieve a total restructuring of the country.
                                      ALSO READ: Fake news: No excuse to distort facts, Bamigbetan declares
Obidigwe used the medium to appeal to APGA leadership to reach out to aggrieved members of the party especially the wife of late Dim Chukwuemeka Ojukwu, whom he described as one that had contributed greatly to the growth of the party.
Chief Uchenna Okogbuo, the chairman of the campaign flag-off committee, explained that the party decided to field a presidential candidate in 2019 to right the wrong of 2015 general elections.
He advised candidates of the party at all levels to shun campaign of calumny, character assassination, but focus on issue-based campaign