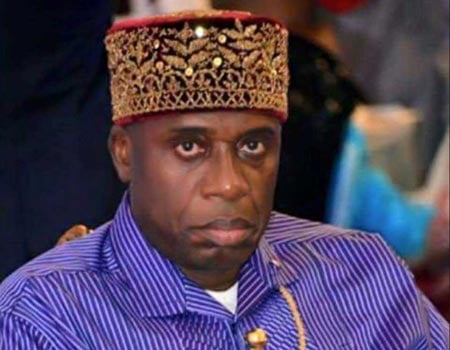 LEADER of the All Progressives Congress (APC) in Rivers State and Minister of Transportation, Rotimi Amaechi has finally announced businessman and Kalahari son, Tonye Cole as his preferred candidate for the 2019 governorship election.
This announcement confirmed a long-standing rumour around the former governor's even though he had earlier announced his preference for a riverine governor for the state.
Also, it might have been surprising to many political watchers in the state who had concluded that from the closeness between him and Dr. Peterside he would still stick with since he also is from the riverine.
A statement from the State Publicity Secretary of the party, Chris Finebone to our correspondent from Amaechi conveying his decision reads in part: "We are aware that not all would find it easy to accept the decision but I am also conscious that the decision was made for the best interests of the party and the group."
The former Rivers State Governor also against all expectations in 2014 chose Dr. Dakuku Peterside over his then close friend and political ally, Sen. Magnus Abe with his decision to dump Peterside for Cole this time around hinged on them to get a neutral candidate around whom every interest in the state APC could coalesce.
He stated: "We are aware that interests are divergent and numerous and that they can only coalesce if we get someone neutral; someone who is able to get every interest to converge as one."
"What is critical is victory. Loyalty is not only when it favours you but when you are tempted and stretched to your limits.
ALSO READ: Fayose's aide slams Fayemi over request for security beef up for his inauguration
Ventilate we must but to move ahead we also must, as the battles ahead are numerous and tedious. You all urged me on to proceed to make a decision and swore to stand by that decision. The time has, therefore, come to so do. Good morning my fellow compatriots and wish that we stand with each other to bring down this evil Government. God bless all of us," Amaechi said.
Also, Peterside has issued a statement accepting the decision and pledging his loyalty and commitment to work for the victory of the party in 2019.
In a separate statement also from Finebone, the APC governorship candidate in 2015 said "I stand by the decision" saying he believed that it was for the overall interest of the APC in Rivers State.
In the statement tiltled "Unity To Triumph: Peterside stated: "We have toiled from 2013 to date ( a period of five years ) and have made sacrifices & lost lives in course of enthroning the kind of government we want in Rivers State; a government that will guarantee peace, unity and prosperity. In course of the struggle, we bonded as one indivisible family under God."
"The decision by the Leader has been met with mixed reactions, which is expected. My appeal is that we allow the greater interest of APC and Rivers State to prevail."
To those who believe in the vision I shared in the past 5 years, the leadership I gave at various times and the path of loyalty to the cause I have chosen over time, I urge you all to stand by the Leader, the party and the ordinary people of Rivers State in support of TDC. I personally pledge my loyalty to the Leader, who is to me, family and the decision he has made. I enjoin all my supporters to queue behind our leader Chibuike Rotimi Amaechi and ensure total victory for our party. I pray for unity among the members of APC & victory in the 2019 election."
But Finebone clarified that the party would still conduct a primary election for the governorship slot to confirm the decision.