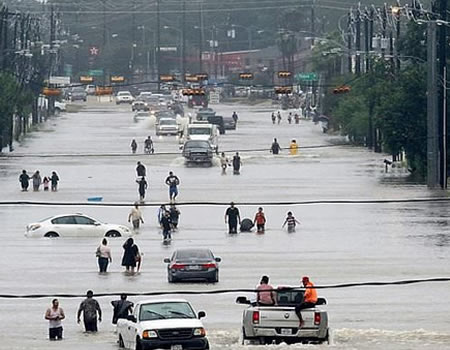 Last year 2017 was the most expensive in United States history for natural disasters, with a series of fires and hurricanes that cost $306 billion, according to a US government report Monday.
A total of 16 disasters cost $1 billion or more, said the report by the National Oceanic and Atmospheric Administration.
AFP in its report said the previous costliest year for the US was 2005 with losses of $215 billion driven in large part by Hurricanes Katrina, Wilma and Rita.
Last year, the western wildfire season which ravaged large parts of California cost $18 billion, "tripling the previous US annual wildfire cost record," said the report.
Hurricane Harvey, which dumped some 50 inches (127 centimeters) of rain on Texas, cost $125 billion, second only to 2005's Hurricane Katrina in historical records of billion-dollar disasters, going back four decades.
Hurricane Maria, which flattened much of Puerto Rico, cost $90 billion, while Hurricane Irma, which plowed into the Caribbean and Florida, cost $50 billion.
"Hurricane Maria now ranks as the third costliest weather and climate disaster on record for the nation and Irma ranks as the fifth costliest," said the report.
NOAA said the number of billion-dollar disasters 16 tied with 2011 for the most in a single year.
PHOTO: US-Natural-Disaster
CAPTION: People walk through flood waters in Houston on August 27, 2017 in the aftermath of Hurricane Harvey, the most expensive natural disaster in the US in 2017. PHOTO: AFP.
---
---