2-year-old Nigerian Baby regains her health
after seeking treatment for an atrial septal defect in India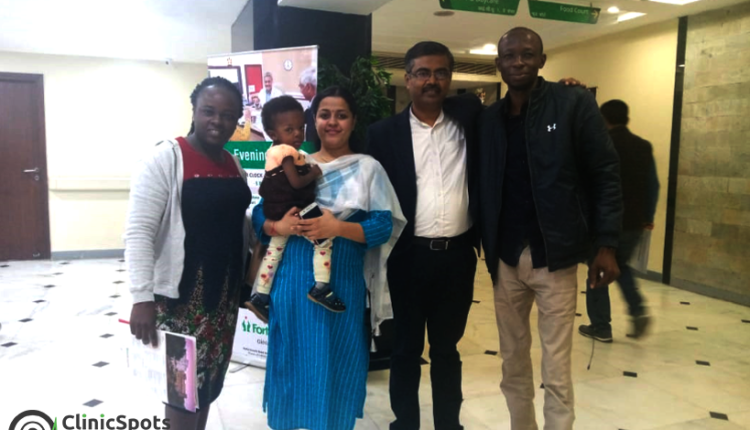 Life is precious! Through medical tourism in India, numerous young children suffering from congenital cardiac defects have been gifted with a new lease of life enabling them to give a more meaningful purpose to their presence in this world.
It is heart-wrenching but bitter truth of young babies being born with congenital heart defects despite advances in medical science. Nevertheless, on the positive side, we have corrective surgeries and procedures to rectify these defects soon after their birth.

ClinicSpots as a medical tourism company believes in humanity above their business. It is their empathy quotient that makes them go beyond their business interests to relive human suffering as much as possible from their end.
Though in a nascent stage, ClinicSpots seeks to know the patients beyond their medical history in order to offer them medical solutions that can be accommodated within their financial capacity. This goes a long way in relieving the patients as well as the family members of intense mental and physical trauma which they must be undergoing. This type of empathic and patient support and cooperation gives a boost to the morale of the patients for the best turnarounds possible.
India leads in offering premier quality pediatric cardiac treatment and services at an affordable cost as compared to that across the world. Within the increasing volume of medical tourists from South East Asia, Africa, the Middle East, and CIS countries, we have witnessed many children from abroad who have sought pediatric treatment in India and recovered remarkably well.
Along with South African, medical tourists from Nigeria, Tanzania, and Kenya prefer India for their medical treatment as per industry reports. The primary reasons being India has proved to be a reliable destination for healthcare considering its state of the art medical equipment and trained medical professional community. The other reason being an affluent middle-class community of the African nations have the spending capacity to seek out affordable medical treatment that is available in India. Along with this, proficiency in the English language is yet another factor that encourages African visitors to seek treatment in India.
The medical tourism sector in India is assuming a concrete shape with promising growth figures. This is due to the Government of India offering tourist-friendly medical e-visas along with an increasing number of well-established JCI accredited hospitals that offer state of the art medical treatment at extremely affordable costs. Also, the medical fraternity is extremely well qualified and experienced which reassures the patient and his family to be advised, guided and offered the right treatment for recovery.
Such is the case of Baby Eliana Jewoola, age 2 yrs from Kenya who sought to correct her atrial septal defect by seeking treatment in India. Her father, Mr. Jewoola sought information on this defect and possible medical procedures available in India to treat the same online at ClinicSpots portal. They exchanged first-hand information about his daughter's heart condition, his financial status, the willingness to travel to India and so on.
Mr. Jewoola briefed that his two-year-old daughter was not growing well, she was extremely weak and unable to gain weight. The main reason for her condition was a defect in her heart i.e. hole between the two upper chambers of her heart.  The large size of the hole could be the primary reason for its non-closure. The earlier detection of atrial septal defect implies correction through an open heart surgery by either placing a valve or closing the hole as the case may be.
Post initial rounds of information exchange, her case was discussed with Dr. K. S. Iyer, India's noted Paediatric Cardiologist attached at the Fortis Escorts Heart Institute, Delhi who suggested atrial septal closure correction
Finally, six months down the line, Baby Jewoola's treatment got scheduled in the third week of January 2020 and it was funded by Reverend Esther Ajayi, noted African philanthropist on account of a weak financial status of the family. She and both her parents arrived in India on 27th January 2020. Soon after preliminary investigations, the closure procedure was done up and Baby Jewoola recovered remarkably well in a span of 5 days.
Medical Tourism in India offers a new lease or hope of life to people who are suffering and unable to seek the requisite treatment primarily due to steeply-priced medical treatment across developed nations. Medical treatment of cancer, knee and hip replacement procedures, cosmetic procedures, IVF procedures, organ transplant, dental treatment and much more is done at one fourth or half the costs in India as compared to the US of A or the UK.
Moreover, with internet accessibility, there are increasing incidences of virtual consultations and know-how of latest treatment which promises that no stone will be left unturned when it comes to hosting medical visitors. The patients are well connected with the representatives of the medical tourism company and with the doctor as well prior to their arrival in India which does put both the parties at great ease and in a comfortable equation too.
ClinicSpots is committed to bridging the gap between doctors and specialists and the patients who wish to recover well from their ailment. On no account, a human being should suffer a malady if there is a scope of improvement and recovery and that too, at affordable prices which is available in India.  Medical tourists are most welcome to seek the same by visiting India with full trust and faith coupled with the requisite assistance and cooperation from ClinicSpots, the journey to recovery will be a remarkable and a fulfilling one.