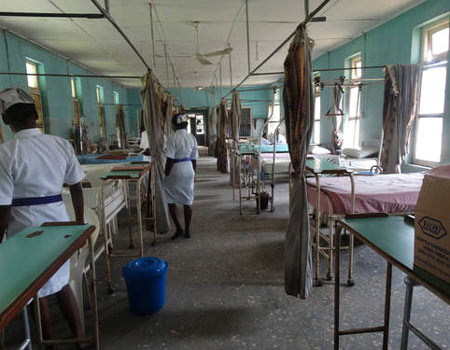 Two women have been held hostage over their inability to offset medical bills in a private clinic in Sapele, Delta State.
The patients were said to have undergone successful surgeries at the Sapele Clinic and Maternity and have been in the clinic since December 2016 over the unsettled bills.
The hospital management was said to have discovered that the patients, Shola Adewuyi and Esther Osiebe, had no money to offset the bills after the surgeries had been carried out successfully.
The Chief Medical Director of the private clinic, Dr E. Sagay told journalists that the women had to be detained as it was becoming a pastime for patients to want to evade payments and sometime abscond after treatment.
According to him, "if we continue to run this place like that, with every patient coming and going without paying bills and coupled with the escalating cost of drugs, it will be very difficult for us to stay in business."
He appealed to families of the patients to raise the money to offset the patients' bills.
Meanwhile Shola Adewuyi, one of the patients, lamented to journalists that she did not plan for her present predicament.
She said she was returning to Sapele from Lagos when she was involved in a fatal accident, but she survived.
According to her, she has been able to offset N150,000 out of N317,000, with a balance of N167,000 of which she is being detained.
Adewuyi appealed to the public to come to her aid.
Mrs Esther Osiebe, who said she was involved in a motorcycle accident, also appealed to the general public to assist her.