Nigeria risks famine in the next five years if … —Ogunnaike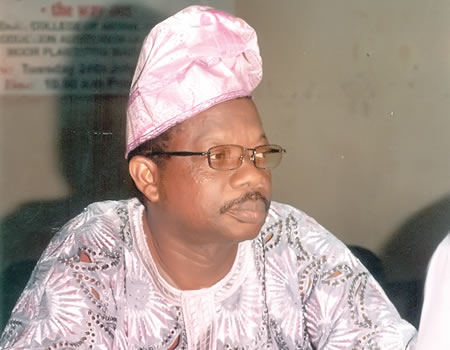 Chief Emmanuel Folorunsho Ogunnaike, is the Chairman of Folhope Limited, a company renown for integrated farming which includes livestock production, arable crop production, aquaculture among others. In this interview with NURUDEEN ALIMI, He reveals various challenges affecting the growth of agriculture in Nigeria and ways to address them.
TO what extent can you say your company has contributed to the development of agriculture in Nigeria in the last forty years?
Our contribution to agricultural development is better said by those that are witnessing what we are doing, so we can not praise ourselves but all we know is that we are contributing our own quota to the development of agriculture in Nigeria. We are into integrated farming which comprise livestock production and arable crop production. When it comes to practical experience we have have been helpful to several students of agriculture in their practical knowledge acquisition. In that case, you can say we are contributing to agricultural development towards giving training in the area practical. Then we produce food at our own level and at our own pace, we produce eggs, chickens, we produce palm oil, we produce fish, pig. By so doing you can say we are contributing our own quota to the development of agriculture in Nigeria.
ALSO READ: Court restrains Obasanjo's in-laws from evicting Mushin residents
Talking about agricultural practice, can you say Nigeria is doing it appropriately compared to what obtains in other African and other developed countries of the world?
If we are not going to deceive ourselves, I will say we still have a long way to go. We have been having series of agricultural policies but the government has to do more about the implementation. For example now, here in Oyo State, many hatcheries are closing down and among them is our own hatchery here and the root cause is irregular electricity supply alongside high tariff which is becoming unbearable to sustain agricultural production. When we do not have electricity supply, we depend largely on the use of power generating set and a litre of diesel as of today is between N240 to N250. Nobody can use that for agricultural production and make a significant progress. So in that case farmers are still facing serious challenges in this country. In the area of crop production, farmers are also facing serious challenges. Only that the truth is bitter but whether it is bitter or not you have to say nothing but the truth. In those days if you are coming from Lagos to Ibadan, Oyo, Ogbomoso, Akure, Owo and Benin, both left and right of the road you will see plenty of maize I mean fresh ones on display those that are roasted or cooked. You will see plenty of yam tubers, pepper and other agricultural products. All these have become things of the past. All the areas being used for the production of grains as of that time is now flooded by cattle rearers. In that case, if care is not taken the effort of the federal government in the area of food supply in Nigeria may become a labour in futility. In the South-West part of the country as of today, nearly 70 to 80% of peasant farmers have vacated their villages and farms due to the invasion of cattle rearers grazing on their food crops. At times they attack the farmers maim and kill them and you know farming is too tedious in nature and very expensive in doing. I do not know of any farmer who will produce grains for cattle to eat and continue producing. Today, farmers are leaving the villages en masse to the urban areas and that will pose threat to food security in the nearest future. In another three four five years there is going to be a terrible war of hunger in this country if care is not taken, unless we want to continue deceiving ourselves. If anybody is saying that all is well in the area of agricultural production in Nigeria, such a fellow may be deceiving himself and there is an adage which says it is better for somebody to tell the truth and cause people to cry than telling them lie to make them laugh. So in that case, we still have a long way to go, things are not okay in the agriculture sector in Nigeria.
As a major stakeholder, what do you think is the way forward in addressing all these issues you have raised?
One of the ways forward is to make electricity  available and affordable to farmers. Also, there is the need to curb the excesses of the cattle rearers who are grazing on people's crops. Well, people are saying they should provide funds, yes, it is easy to go to the bank to take loan, but what will be the outcome of the loan after you might have invested it in agriculture only for cattle to be grazing upon? In some cases they will say if cattle graze on your farm you should seek compesation. Can money compesate for food availability? Cash can not compesate for food availability, those that are farming, their primary objective is to produce food for their immediate family then the leftover may be taken to the market to generate funds. Therefore, when you say after cattle might have grazed on your crops you should come and take money, are we going to pound money in our mortar as food? Or are we going to put the money in the pot and prepare it as amala? We should not deceive ourselves, money can not be a compesation for food. As of today, if we move imported food out of our market, the market is going to be nearly empty. Therefore, the government should address the issue of electricity and that of cattle rearers. Cattle rearing is not strange and not new in Nigeria but why they are deadly this time is what we do not know. If there is no hidden agenda, I see no reason they should be too deadly and they are wreck to cause havoc in the area of agricultural production and people will face serious farmine. Not everybody will have access to food because some people are just managing many people can not afford three square meal per day. Many people are begging for food, it is easy for those that are in money, permit me to use the phrase in money to be able to afford food at any cost. But what of the poor people? They won't be able to afford it. When there is no surplus you can not expect the price to come down. Food surplus is going to be an antidote to reduction in prices.
Over the years the Nigerian government is saying it is working towards shifting focus from oil to agriculture as a major source of revenue for the country. How would you rate government's seriousness in this regard?
If they are serious they will know that they are and if they are not they know. When we say government, collective people make government not an individual but all I know is that in this country, we are deceiving ourselves. If we are not deceiving ourselves, right from Operation Feed the Nation, Green Revolution and many other policies put in place, what is the outcome today? Now that we should have everything in place the cattle rearers are creating problems. How do we diversify from oil to agriculture as a source of revenue when crops planted are being destroyed by cattle. If there is a sign of seriousness in them we will know, the bible says by their fruits we shall know them. If we plant and the government can not prevent cattle rearers from grazing on it is that a sign of seriousness? As of today, those that are sustaining food availability in this country are the peasant farmers. We have some other people who can go into it in large scale but within four years they will withdraw but the peasant farmers are the saviour of Nigerian food security and they are the ones being bruralised being killed, maimed and sent out of farms. There is danger for agricultural production in Nigeria in the future.
Talking about local rice production in Nigeria, not quite long some state governments said they are producing rice in large scale. As a matter of fact, some came up with series of rice pyramids, can you say Nigeria is toeing the path of putting an end to rice importation?
Only the future can tell, let us keep our fingers crossed and see what the future has in store for us. But all I know is that importation of rice is till going on, smuggling of rice is till going on. If you have it available in abundant nobody will dare go into importation that is the fact of the case. But if they say they have got more than enough, then let the public be the judge but all I know is that importation of rice is still ongoing.
On a final note sir, what are your words for farmers in order to encourage them not to give up despite the various challenges they are facing?
My advice to farmers is that they should continue to endure. Although there is a limit to human endurance but I appeal to them to continue to endure with the hope that after the darkness the glorious dawn will surely come. Let us hope the government will do the right thing at the right time to cushion the effect of the challenges the farmers are facing. In those days we have so many people who are involved in backyard farming, small scale farming all these have become things of the past and a drop of water make an ocean. A little from here and there when you gather it together it goes a long way. If you are in a position to produce yam that will last your family for five days you won't go to the market within that five days. So also cassava, maize and other grains if you are able to produce something that will sustain you for three weeks you won't have cause to go to the market for that three weeks, therefore, as I have said a drop of water makes an ocean.