Akinboboye: Tourism creative genius @ 60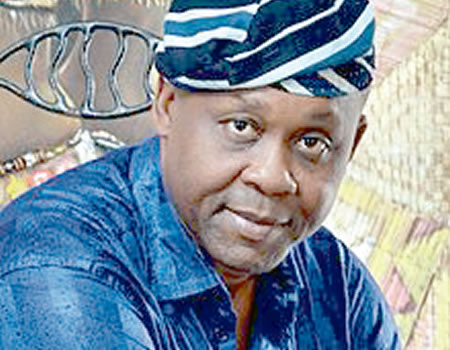 If there is one person in Nigeria who has privately and on personal initiative quietly   contributed immensely to the development of in- bound tourism in Nigeria, Ambassador Olawanle Akinboboye is it
The Ondo born United States of America (USA) trained scientist and security expert who planted La Campagne Tropicana Beach Resort, Ikegu Village, Ibeju Lekki Local Government, Lagos State 36 years ago clocked 60 years on the face of Mother Earth.
It is said that when geniuses are born, when enigmatic personalities are being brought forth to life, the heavens and earth are always in consonance of their destinies and their missions are made unique, they wrought heart blowing invention and create out – of – the – world concepts that transform and make the   firmament a better place to live.
ALSO READ: Former Plateau gov, Jang joins presidential race
Such men as Charles Dickens with 165 IQ level , Michael Faraday with  IQ level:175, Baruch Spinoza with  IQ level: 175  Michelangelo with  IQ level: 177 and Desiderius Erasmus with IQ level: 177,  distinguished themselves in their various endeavour as Wanle Akinboboye who finds solace of ecumenical passion in tourism, hospitality, security and intercontinental race integration.
Akinboboye who left the shores of this country at age 14 for the US came back with a bouquet of experience in scientific configuration, expertise in security  and communication and a robust well-honed in the art of hospitality, tourism and resort administration.
It was a surprise to the parents, a bizarre act and weird when the then young man who has just returned   to
Nigeria, and who was offered juicy job opportunities decided to shun all, picked his camp tent, a torchlight and backpack and headed straight to   the jungle of Ikegu Village, Ibeju – Lekki which was a hamlet of fishermen.
The Lion in the jungle was scared seeing a man in the bush staring at him like 'no hoot for  the king in his Liar  " roared and roared and found to his chagrin that this man is a ghost, walked majestically past him and retreated into the innermost part of the jungle
And since that day, Akinboboye has turned the forest into tourism Eldorado where the tropical ambiance of the forest intermingles with the aura laden breeze of the Ocean and being tendered by the coloured lagoon which nourishes the Mangrove.
As if that is all , Akinboboye has concentrated the tenacity and toxicity of his inner driver to transform La Campagne Tropicana Beach Resort from a mere fun seekers beach coast rendezvous to a  talent discovery village where destinies are been discovered, shaped, branded, explored, exposed, honed, washed and magnified.
Like the geniuses of his type, Akinboboye is blessed with such humongous creative instinct which has led him into the inauguration of Atunda Entertainment Group that has acted in alliance with the name – recreation and remoulding of zero talents to superstars.
Ara (wonder), Ara (Thunder) Olo Omoge Onibata, Lady Ekwe, Olohun Iyo, are some of those hitherto with no sting of stardom, but have through Atunda Entertainment bestride the international stage performing for, presidents, kings, emperors and queens.
In the last 35 years, he has also made his footstep loud in the sand of intercontinental tourism advancement.
Within the same time Ambassador Akinboboye stoked the consciousness of the global attention when he launched Motherland Beckons, a global African in Diaspora platform which has over five million members of African descent all over the world.
Motherland Beckons has been recorded as the world's singular platform with the greatest number of Africans in Diaspora.
His global tourism activities have been so recognised that he was made the Secretary – General of World Black Mayors.
Ambassador Akinboboye is the first Nigerian tourism expert that the President of Cote D'ívoire dispatched a powerful delegation to the Governor of Ondo State where he was serving as a Special Adviser to release him so that he can come to help his country midwife a sustainable tourism development module.
As the sun shines for all, his talents and wondrous creativity output have not been limited to Diaspora or Atunda Entertainment or West – Africa, Akinboboye's initiatives have spread remarkable tentacles within Africa continent spreading their roots firmly into Turkey.
The Motherland Beckons initiatives have grown and shot sporadically and tangentially building an intercontinental network of business and industrial relationship for its members.
Akinboboye has dedicated his life into building bridges of socio-cultural-tourism understanding between the Anglophone and Francophone countries in Africa which led to the hosting of the first African International Music Festival, AIM where 154 musicians from over 40 countries in Africa showcased their talents.
His creativity has not only been commended, but acknowledged even by the Guinness Book of Records which has taken cognisance of La Campagne Tropicana Beach Resort as the only resort in the world which housed the longest swimming pool beside the Atlantic.
Though he is not a rooftop fellow who blows his trumpet, fortunately no one can light a candle and put it under the bushel, as he does his acts quietly, the rays of his illuminating acts always pick him into the illuminating radar of commendation.
Olawanle Akinboboye's  six  decades have not only  been of adding value, but being a blessing to humanity, nature, Nigeria, Africa and the global tourism world.
May God bless this wonderful son of Ondo, a tourism impresario and a connoisseur of African culture many more fruitful years.
Bai, wa'daigbo o