APC will win Edo —APC chairman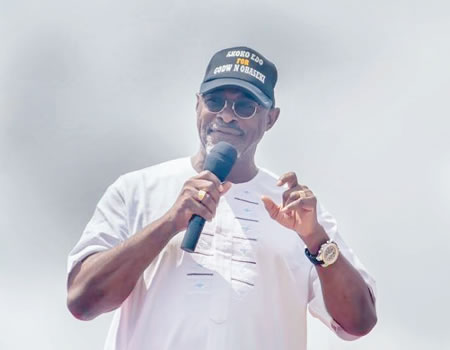 Edo State chairman of the All Progressives Congress (APC), Mr. Anslem Ojezua, recently spoke on the rift in the party, President Muhammadu Buhari's performance, Governor Godwin Obaseki's efforts and his optimism of victory in 2019. HENDRIX OLIOMOGBE brings the excerpts.
What is your take on the activities of the Reformed All Progressives Congress (rAPC) on your party's success?
There is nothing like Reformed All Progressives Congress (rAPC); we have only one All Progressives Congress (APC). Any other thing is an illegal contraction and should be treated as impostors. The national headquarters should take it up. APC is stronger than even before. Given that the entire process from ward to state to the national convention has been concluded. What we have now is a brand new executive council of the APC at all levels. We have rejuvenated party machinery roaring to go. This is evidence of the party's maturity.
Against the backdrop of recent mass defection, don't you think the best way out is to negotiate with the rAPC so as to save the party from collapse?
There are two sides to negotiations. One cannot negotiate with an illegal body. The party's constitution provides for conflict resolution. It is an offence to set up an illegal body. It should be seen and squarely dealt with as such before it becomes a cancer. A spade should be called a spade. Tolerating the rAPC is like encouraging factionalism. There should be zero tolerance for factionalism. We can deal with them as individuals and try to address their grievances and not as a group.
Don't you think the defection of Senate President, Bukola Saraki, Benue State Governor, Samuel Ortom and several national lawmakers is a bad omen for your party?
So much has been said about this group which is referred to as the new People's Democratic Party (nPDP). I am not sure that they all had the same motive when they left the PDP. Some subscribed to change when they left for APC. Some of them especially from the North would have lost the election under the PDP and had to go to the APC to guarantee their return to the National Assembly and so started behaving like PDP right from day one, operating PDP agenda. They are responsible for the retarded development of the party. They are agitating because of the fear that they will not be able to secure APC's ticket. I think that what they want is to negotiate and get the party's ticket. APC must be known for discipline. We cannot be blackmailed and must put our foot down. Personal interest must give way to group interest. Supremacy of the party is what this is all about.
What is your opinion on need for more reconciliation talks to avoid an implosion?
I agree with our national chairman, Comrade Adams Oshiomhole on the need for reconciliation with aggrieved members, but not as group, but as individuals. All the legacy parties were buried and can't be resurrected. All we have is APC and they must subject themselves to APC's rules and regulations.
How will you assess Governor Godwin Obaseki so far?
Obaseki has done very well is all facets of governance. He has been building on Oshiomhole's solid foundation. I can see a lot of infrastructure like roads being constructed across the state, leading to the appellation, wake and see governor. Edo people now wake up to see heavy duty equipment working in their neighbourhoods. The revenue collection system has been revolutionised, using modern technology instead of the threat of violence to the extent that Edo State does not have to wait for federal allocation to pay salary. The current federal allocation has not been released because of dispute with the Nigeria National Petroleum Corporation (NNPC), but Edo State has been able to pay June salary. Primary Health Care Centres are being constructed in all the neighbourhoods in the state to take health care to the doorsteps so that only serious cases go to the Central Hospital and very serious ones are taken to the University of Benin Teaching Hospital (UBTH).
The government is seriously attaching childhood diseases through an aggressive immunisation. Mosquito nets have been distributed. In fact, infant mortality rate in Edo State will soon drop.
What of his educational policy? There were reports recently of school pupils sitting on the floor to learn in some dilapidated public schools.
On education, there is a lot of emphasis on basic education, the foundation of all education. Concurrently, teachers are being trained in modern teaching practices while plans are on to renovate over 200 schools in one swoop. These schools will be fully staffed to serve as model of basic education in Nigeria.
What of housing and industrialisation?
In the area of housing, Vice-President Yemi Osinbajo was in Benin recently to turn the sod of an ambition housing project. This is a 1,800 housing unit. It is a new town and not a housing unit. It is very significant considering the effort to establish an industrial park in that vicinity. The families of the workers in the clusters of industries in the area will find the housing units to be very useful. The housing unit will be complete with medical, recreational and other complementary services.
The development of Gelegele Port is ongoing. Preparations have reached advance stages and construction will soon start.
The state government recently played host to the automotive world when chief executives of front line motor manufacturing companies like BMW, Volkswagen and Toyota came to inspect what the state government is doing. They want to take advantage of Edo State as a potential industrial hub in the country.
With Azura and Ossiomo Independent Producing Plant, the gas pipeline finding a meeting point in Edo State. With these, I can beat my chest and say Obaseki is working.
Don't you reckon that Obaseki's alleged aloofness may cause the party dearly in 2019? Some party members especially the youths are rebelling, accusing him of using and dumping them.
This is understandable because of his style of governance which emphasises that governance politics, though complmentary, do not blend. I appreciate the fact that politicians, particularly party members have been patient and understanding so far. That fact is not lost on the governor. I believe that there will be legitimate way by which those who help to build the party must benefit from the activities of the government.
Are you optimistic of victory in a free and fair election 2019 in Edo state?
Sure, APC will win in Edo State? By the designation, the People's Democratic Party (PDP) is the main opposition, but has lost the goodwill of the people years ago.
After over three years, what is your assessment of President Muhammadu Buhari? Has he kept his promises?
Having regard for the condition the president find himself in the last few years, including the false recession arising from the unprecedented level of plundering of the national treasury, I will say that the president has done exceedingly well even though our revenue dropped by 70 per cent.
Road infrastructure was in serious decay, the morale of security personnel was at its lowest ebb, but somehow the government found a way of meeting its statutory obligations. Buhari has spent more on capital projects within a given year than any of his predecessors in office to the extent that one can now go to Lagos from Benin in three hours. Roads are being built across the country. Travelling by road has eased significantly. Rail development is now a matter of reality. Before now, so much money was budgeted, but there was no evidence on the ground for the huge allocation.
There was lip service to agriculture. The Second Niger Bridge is being built and moving toward completion.
Rice importation which used to eat into our foreign exchange has dropped by 80%, meaning that the 80 per cent is being produced by Nigerian farmers who are now gainfully employed. Our farmers produced more now as government is now showing full support. 25 hectares of land has been completed in Jigawa State with irrigation system. Rice is being produced in Kebbi and Ebonyi,  Lagos and Kebbi states are partnering to produce rice. Edo has the capacity to feed the rice mill at Ugboha, Esan South East local government area. Leventis Farm now produces oil in Etsako East Local Government Area. Okomu and Presco Oil are moving in leaps and bounds. So much money was spent on the importation of fertilizers, just like rice, but presently about 15 fertilizer companies are in operation.
What are your thoughts on imposition of candidates?
There will be no imposition of candidates. Edo APC has never been involved in the imposition of candidates. Our primaries were keenly contested in 2014. People competed. There will be no imposition but we will encourage consensus. It has worked for us and there is a provision for it in our constitution. It is a way of resolving issues and will encourage it.
What advice do you have for Comrade Oshiomhole?
He should stay on course. He understands the issues from a vantage position as a former governor. He clearly understands what the job requires. We will support him in the herculean task ahead. He is the best now to confront the issues afflicting the party at this time. He will have our prayers and support.
What of Bishop Osadolor Ochei's petition to the Economic and Financial Crime Commission (EFCC) against Comrade Oshiomhole?
He is an unknown quantity and that speaks volumes. He is an unseen hand being used to smear Oshiomhole. He knows that if Oshiomhole becomes APC national chairman, the PDP is gone. The allegations are frivolous and lack credibility. Oshiomhole introduced transparency to governance in Edo state with the adoption of Information and Communication Technology (ICT). According to the World Bank, it will not do business with any government that is not transparent in its processes. That is the government must be accountable in its financial dealings and be prudent in its resources. The World Bank found Edo state worthy and invested heavily and still investing because Obaseki has not deviated from the robust system established by Oshiomole and it is working. The petition is frivolous. Curiously, we have not heard anything about the petition since Oshiomole became APC national chairman.